Matthew Quayle (b. 1976) took up what's considered the ultimate classical genre, the string quartet and brought it fully into the 21st century. The original conversational / confrontational discussion between 2 violins, a viola, and a cello the discourse was rarely personal. In Quayle's quartets, however, he takes the opportunity for creating a very 'personal and reflective' space in creating works for the ensemble.
His second string quartet, completed in 2006, carries the subtitle of Sweet Insanity. Written in New York, the music captures the city in all its dimensions: tonal / atonal, spiky / lyrical with a bit of blues thrown in. That's how Quayle musically characterizes his life in New York as a graduate student at NYU, including a labour strike, the struggles with completing a Ph.D., and the chaos of the city all in one quartet.
We start out with a solo voice, with a melancholic melody and a few shrugs and sighs. This is one of those people walking through the streets, head down, concentrating on everything but the world around him. As all the voices join in, the chaos begins.
Matthew Quayle: String Quartet No. 2, "Sweet Insanity"
This is quartet writing by a young vital composer – there's always something intruding, something catching his ear – and he brings this across to the audience in a way that carries them along into his private world. This is not your grandfather's string quartet! The blues lines carry this quartet far away from its European roots and place it firmly in America.
An abbreviated version of this quartet was given its premiere in March 2006 and the full version, performed by the Avalon String Quartet, was presented at Merkin Concert Hall, New York, in December 2006.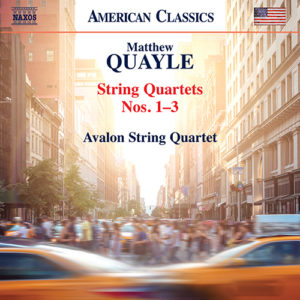 Matthew Quayle:
String Quartets Nos. 1-3

Performed by
Avalon String Quartet

Official Website