The Austrian composer Joseph Marx (1882-1964) led Austrian musical culture and after his death, seemed to vanish completely from the musical scene. Born in Graz, he studied philosophy, art history, German studies, and music at the University of Graz. In his 1909 doctorate, he coined a new musical term we still use today: 'atonality.' In 1914 he moved to Vienna and taught at the Vienna Music Academy (later the Hochschule für Musik). He was Director of the Academy from 1922 and then Rector of the Hochschule from 1924 to 1926. As an internationally renowned music teacher, author and critic, Marx was at the center of the Viennese musical world.
He's best known for his vocal music and wrote more than 150 lieder. His orchestral music, however, cannot be overlooked. We can hear immediately from this work that his impressionist and lyrical style was the opposite of the other leading musical sounds in Vienna in the early 20th century, that of Schoenberg and the Second Viennese School. It was said that he '…only had a kind word to say about their works if they were at least to some extent rooted in tonality.'
Marx conceived of a massive three-movement Natur-Trilogie (Nature Trilogy) in the early 1920s. The technical difficulties of the three works Symphonische Nachtmusic (Symphonic Night Music), Idylle, and Eine Frühlingsmusik (Spring Music) meant that they were never programmed together as an evening of music. Indeed, the extant scores show extensive cuts, a signal of the technical difficulties the players faced. This recording of the Trilogy is the first to return to the original scores.
The original title of Symphonische Nachtmusic (Symphonic Night Music) (1922) was Mondnacht (Moonlit Night). We open with the chirping of crickets as the night view opens in front of us. The moon lights the landscape and a nightingale makes its appearance (03:50) in the solo violin.
Marx: Symphonische Nachtmusik (Symphonic Night Music)
This isn't the night music of Bartók, with its creepy sounds and bugs, this is the music of a beautiful moon-lit night. There are shadows but they are shadows of illusion and not of fear. Truly a work of beauty that deserves to re-enter the concert hall.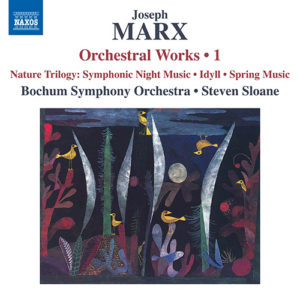 Marx: Symphonische Nachtmusik (Symphonic Night Music)

Performed by
Bochum Symphony Orchestra
Steven Sloane

Official Website