She was born in 1899 in Liscard, Cheshire to a notable musical family. Her father and grandfather were conductors, her sister Marie was an eminent harpist, and all three of her brothers were musicians—Sir Eugene Goossens became an Internationally renowned conductor and composer, Leon a distinguished oboist and Adolphe a fine French horn player. Sidonie had actually wanted to be an actress and to sing opera but her father chose the harp for her, realizing that as a woman this was but her only choice of instruments if she wanted to perform in an orchestra. Later, in the 1930's she would say, "I was the only girl in the orchestra in those days. It was such fun."
In 1921 Sidonie's brother Eugene formed an orchestra to perform the British premiere of Stravinsky's
Rite of Spring
—Sidonie's orchestral debut. This concert was soon followed by two other firsts—she was the first harpist to be featured on the radio in 1923 and the first harpist to be heard on television in 1936.
Goossens had the privilege to work with the most outstanding composers and conductors of the time—Arturo Toscanini, Bruno Walter, Benjamin Britten, Arnold Schoenberg, Igor Stravinsky and Pierre Boulez, the BBC's Principal Conductor from 1971-1975 whom she particularly appreciated. It was mutual. "This extraordinary
septuagénaire
could play anything I put in front of her," he once said.
Sidonie Goossens, harp – Bernard van Dieren–Estemporale Nos. 1 and 2 for solo harp (1931)
She appeared as soloist at the BBC Proms more often than any other harpist, and during her tenure she premiered many works. She gave the first British performance of Germaine Tailleferre's Concertino for Harp in 1937, and later, concertos by Alwyn, Paul Creston, Debussy, Dittersdorf, Bernard Rands, and Eugene Goossens who composed a triple concerto Concert Piece written specifically for the Goossens family. Sidonie and Marie played the harps, Leon the oboe and English horn, and Eugene was at the helm. Recently, the harpist of the Pittsburgh Symphony, her daughter, the harpist of the Toronto Symphony, and her husband, who used to be principal oboe of Pittsburgh before he retired, performed the piece at the 2014 American Harp Society conference in New Orleans. Another family affair!

Eugene Goossens: Concert Piece for Two Harps, Oboe, Cor Anglais and Orchestra
Sidonie Goossens and Marie Goossens – Harp
Leon Goossens – oboe and cor anglais (English Horn)
Sir Eugene Goossens -BBC Symphony Orchestra
Sidonie had great enthusiasm for new music and often performed the most complex scores with groups such as the London Sinfonietta and the Fires of London. But music wasn't the only thing she was good at! During her BBC years, she and her husband raised pigs and chickens at the 400 year-old family home in Surrey.
Many of the next generations' most successful harpists studied with Goossens at the Guildhall School of Music and Drama where she was professor of harp from 1960-1989.
She continued to play often with the orchestra after she retired, including
Vaughan Williams's Serenade To Music
in 1988, which she had played during its premiere 50 years earlier. Just prior to her 92nd birthday, in 1991, on the Last Night of the Proms, she accompanied Dame Gwyneth Jones in an arrangement Sidonie herself made of
The Last Rose Of Summer
.
A grand celebration took place at London's Wigmore Hall for her 100th birthday. She passed away in 2004 the age of 105.
Marcel Grandjany, celebrated harpist, professor and composer had a luxuriously gorgeous sound attributable, some say, to his "large spatula shaped" fingertips. He composed an enormous number of outstanding pieces for the harp, which continue to be favorites—to name a few
The Fountian, Fantasie, Rhapsodie
and ensemble pieces such as the
Poème
for harp, horn, and orchestra—works that are not only beautiful but also extremely well written for the instrument.
Marcel Grandjany's Rhapsodie performed by Judy Loman
Grandjany was born September 1891, in Paris, France and began to study the harp at the age of eight. He then attended the Paris Conservatoire, winning the Premier Prix at age thirteen in 1905. His debut occurred a mere four years later—with the
Concerts Lamoureaux Orchestra
and at the Salle Erard in recital. These tremendous successes led to a recital with Ravel in 1913 and a London debut in 1922, which launched his international career.
An accomplished organist, he played at the Sacre-Coeur Basilica for several years during World War I.
Granjany eventually settled in the U.S. He became a teacher at the Juilliard School, from 1938-1975, the Montreal Conservatory, and the Manhattan School of Music. In 1991
The American Harp Society Marcel Grandjany Centennial Fund
was established to celebrate the centennial of Marcel Grandjany's birth making possible the release of the DVD
"Marcel Grandjany: The Teacher"
. Today's young harpists can observe Grandjany's mastery.
Marcel Grandjany – performing! Couperin: Soeur Monique 1947
Carlos Salzedo was born in France, in 1885. He became a pivotal force writing and promoting new music. After graduating from the Paris Conservatoire, both on harp and piano, he also decided to come to America. In 1909 he began to play with the Metropolitan Opera Orchestra under Maestro Arturo Toscanini. Salzedo soon established himself as a leading composer for harp writing magnificent works that extended the capabilities and evocative sounds of the instrument.
When he left the orchestra in 1913 he founded "Trio de Lutèce" a flute-harp-cello trio and he embarked on concert tours performing in recital, with orchestras and with his two ensembles Salzedo Harp Ensemble and Salzedo Concert Ensemble.
The head of the harp department at the Curtis Institute, one can say that his influence on his students was incalculable as he was able to approach harp playing from both the standpoint of a virtuoso performer and innovative composer.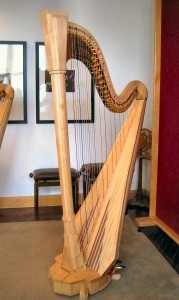 There are fascinating comparisons to be made of the two contemporaries. Although they both lived and studied in Paris with the same teachers, and they both came to the U.S. Salzedo and Grandjany subsequently developed unique approaches to the harp.

Salzedo emulated two Russian stars—the dancer Nijinsky and the choreographer Diaghilev. Salzedo decided that the harp should be played with unusual and bold hand gestures as if choreographed.

The two harpists, both composers, wrote in different styles. Grandjany's music is romantic, impressionistic, and linked to musical traditions of the organ. Salzedo, whose friends included several composers, favored experimental music. His compositions are visionary with unusual rhythms, clarity, and sonorities. He invented the notation to play these special effects, transforming the harp from a parlor instrument to a 20th century instrument of breadth and prominence.

Salzedo: "Chanson dans la nuit" (Song in the night) performed by Josef Molnar

Salzedo was obsessed with the number five and many of his compositions are in 5/4 or 5/8 meter, reminiscent of the Zortzico—a typical dance from his Basque heritage. He designed his own harp, made by Lyon and Healy, in an art nouveau style, with a distinct shape, a huge sound, and of course, adorned with five lines on the sideboard.

The two were opposite personalities. Grandjany was very religious, an old world gentleman, extremely sweet and kind, who remained married to one woman. Salzedo was wild and promiscuous. He married five of his students, and often tried to dictate what his students wore, and whom they dated.

The world is blessed to have had these two giants who influenced generations of harpists and contributed so profoundly to the expanding literature of the instrument.

Dave Apollon "Mad Mandolinist" was one of the most prominent and influential performers of his time. Born in Kiev, Russia in 1897, he taught himself to play and by age 14 he had organized his own group, which performed at a local movie theater. During World War I he fought by day and entertained by night.

Apollon came to the U.S in 1919. Refusing to accept that the mandolin was on it's way out, he auditioned at The Palace Theater, one of the most prominent in New York, and was immediately engaged to accompany a trendy vaudeville act. These performances led to a twenty-year career in Vaudeville.

Although his music sounded exotic and utterly unique —it was infused with Russian melodies, Latin and gypsy music and American ragtime, he also performed classical works such as caprices by Paganini,

Hora Staccato

and even

Zigeunerweisen

by Pablo de Sarasate.

When the very first talking movies were produced Apollon made some "soundies" of his vaudeville routines. From 1930-1956 he recorded on his own label Romance Records. He then moved to Las Vegas and performed year-round with his mandolin ensemble in the 1950's (including the mandolin, the smallest of the family and the highest pitched, mandolas, tuned a 5th lower than the mandolin, and mandocellos, the lowest, tuned like and in the range of the cello.)

Apollon could play everything. His immaculate, effortless technique, and innovative musical approach set a previously unheard of standard for the instrument, thus contributing to the revival of mandolin playing. Soon the instrument became widely used in country and bluegrass music.

Apollon plays Hora Staccato with Victor Borge

Earl Scruggs completely transformed banjo playing and is idolized for his brilliant playing. He was the first artist to master a three-finger technique. With the use of his thumb, index and middle fingers, Scruggs' banjo playing blossomed. It became possible to play more melodically and to integrate unique syncopated rhythms.

Scruggs was born in North Carolina in 1924 into a musical family. His father played fiddle and banjo, his mother the organ, and his two older brothers and two older sisters played banjo as well as guitar.

Tragedy struck the family with the death of Scruggs father. Although Scruggs was only four years old at the time, he vowed to honor his dad by playing the banjo. He practiced

every waking hour despite being too small to even hold the instrument. Although Scruggs played using the traditional two-finger approach, clawhammer style, he experimented constantly and eventually figured out and mastered his three-fingered technique that now bears his name.

Scruggs joined Bill Monroe's

Blue Grass Boys

in 1944 and by the following year the group stood out from other country music bands representing the zenith of classic bluegrass playing. Their distinctive sound was due to their superb mandolin, guitar and fiddle musicians, combined with the extraordinary three-fingered banjo picking of Scruggs.

In 1948 Scruggs and guitarist Lester Flatt left the group to form the Foggy Mountain Boys, which became one of the most popular country groups. The band first recorded Scruggs' "Foggy Mountain Breakdown," which became a bluegrass classic after it was featured in the 1967 film

Bonnie and Clyde

. Scruggs dazzled with his technical ease and perfect, almost motionless posture.

In 1969 Scruggs and Flatt performed their Grammy winning "Foggy Mountain Breakdown" in Washington D.C. for the

Moratorium to End the War in Vietnam

at a time when only a handful of country or bluegrass artists openly protested the war. That year Scruggs separated from Lester Flatt and formed a new band— the Earl Scruggs Revue, featuring his sons, Gary, Randy, and Steve. Scruggs supplemented his sound palette, experimented with electric banjo, and incorporated modern rock and roll sounds.

A true innovator, Scruggs further expanded banjo technique when he invented "Earl's Breakdown"—a new tuning mechanism that allowed him to move from one key to another within a song.

"Foggy Mountain Breakdown" received a second Grammy award for the 2001 recording with famed stand-up comic Steve Martin, playing the second banjo part. Scruggs popularity and recognition increased. In 1992, he received the National Medal of Arts and in 2005 he received an honorary doctorate from the Berklee College of Music.

During a pre-game show for the Atlanta Braves in 2005 a world record number of banjo players, 239 of them, performed his signature piece: a wonderful tribute to the hero of the banjo.

Earl Scruggs brought the banjo into the limelight, forever changing Bluegrass music. He received the Lifetime Achievement Award in 2008 at the 50th Grammy Awards. Scruggs passed away in 2012.

Steve Martin & Earl Scruggs – Foggy Mountain Breakdown on Dave Letterman

Three legendary 20th century harpists stand out. British harpist Sidonie Goossens's remarkable career extended just short of seven decades. A member of the BBC Symphony Orchestra from its founding in 1930 until 1980, she was known for her brilliant playing as well as her wit and charm.