How does one kill time on board a transcontinental flight? Some are determined to sleep over. Some keep watching movies until get tired and fall asleep. Those in the business or first class may lie down to have a decent rest. Some musicians study the score and prepare for upcoming business. I choose to listen to music.

Well I have to admit that even though a jet plane offers one of the most hostile environments of music listening with all the continuous engine ambiance, PA announcement, baby screaming and talks that easily dwarfs the effort from the best noise-cancelling headphones, not to mention the crappy airline earphones, it strikingly resembles a concert experience: You have a very limited selection of entertainment in a confined space not easy to move around for a heavy period of time but seldom get bored in light of the treatment of some refreshments during the break.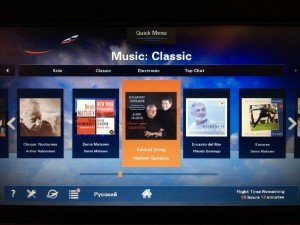 But this still leaves one ultimate question unanswered: Why bother listening to music while flying? As a music journalist and frequent traveller, a flight and a concert hall are the only two occasions where I can listen to music intensely hardly being disturbed with my mobile phone switched off and me sitting by a window alone. The in-flight entertainment system always proves a more valuable source of music collection unfamiliar to me than my iPod.
I can vividly recall how I was exposed to Korean traditional music unknown to me on my very first trip to Seoul on board an Asiana flight from Shanghai in 2013, or how I had my first experience of Turkish music in a vast pool of discography on board a Turkish Airlines flight from Venice to Istanbul in the summer of 2015, or how the Diana Damrau's Meyerbeer: Grand Opera released by Warner Classics that I randomly picked up on a short Hainan Airlines flight from Shanghai to Guangzhou turned out to be a winner of Opernwelt Awards the following night. Those are exciting moments as much as Alice in the rabbit hole.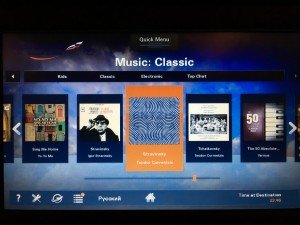 As a freelance journalist I am constantly ready to look out for the uncharted musical territory and broaden my listening scope. As an enthusiastic tourist I am at any time prepared to explore the hidden side of musical landscape of my destination. As a seasonal music consultant I am repeatedly eager to find out how well or badly an airline deals with its in-flight music across its entire fleet. That's why I have been taking screenshots of the classical music/opera selection whenever I am flying since 2015 and jotting down quick judgement.
While most in-flight systems now enable selecting tracks, creating playlists, customizing repeat, there are several other user-friendly factors that I take into consideration when making a judgement: How big is the selection; How is the discography sorted; How well is the metadata display; How often is the music updated; How smoothly does the system function; How detailed are the descriptions? Normally it takes up to two hours to figure this out, followed by listening to some music that I am really into, or not.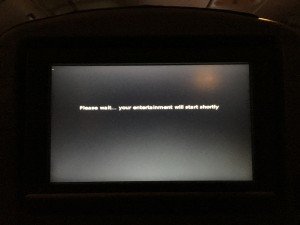 But then I always enjoy the benefit of shutting down the system and getting some sleep, something unimaginable in a concert hall, which makes listening to music 33,000 feet above all the more tempting.
Aeroflot
I flew Aeroflot – The Russian Airlines almost four times a year because it's cheap for European bound flight from China and transit in Moscow is comparatively brief. I took the following screenshots in June, 2017 when I was on my way from Shanghai to Istanbul via Sheremetyevo for the Istanbul Music Festival. It's a nine hour flight from Shanghai to Moscow. I flew Aeroflot again in September from Shanghai to Berlin and back. Unfortunately the entertainment system on both transcontinental flights were dead which prevented me from updating the screenshots. The flight attendants promised to fix up before taking off, but could do nothing after all. Imagine I looked at this screen for 18 hours and it cound't be switched off!
But when it works sometimes, Aeroflot provides a kaleidoscopic collection of classical music and opera. From the last recording of Nikolaus Harnoncourt to a fancy new release by organ's enfant terrible Cameron Carpenter, SONY Classical (including former SONY-BMG) constitutes over half of the some 50-disc catalogue. Russian pianist Denis Matsuev, Greek-Russian conductor Teodor Currentzis and Greek pianist Yanni lead the chart with three albums each. They are followed closely by Glenn Gould, Zubin Mehta and Nikolaus Harnoncourt.
It's bizarre for me to find Yanni on par with classical greats like Bernstein, Arthur Rubinstein or Yo-Yo Ma but then the origin of easy listening of which Yanni was a king justifies the line-up. Created in the 1930s and gone viral in 1950-1970s, easy listening music contrasts with classical or pop/rock by its distinctively beautiful melody with velvet-like strings. The term has been absorbed by new age, then by crossover and finally by world music where everything doesn't fit into other genres falls into.
Crossover and classical were so close that Yo-Yo Ma even won four Classical Crossover Grammys. His latest album Sing Me Home – Yo-Yo Ma & The Silk Road Ensemble, won him a Grammy Award for Best World Music Album in 2017. Yanni and Yo-Yo, both champions of world music, were never so close, yet never so distant.
The Silk Road Ensemble, Yo-Yo Ma – Going Home ft. Abigail Washburn
Judgement
PRO: Aeroflot – The Russian Airlines offers a most comprehensive and updated classical music catalogue in its in-flight entertainment system for long haul flights of its entire fleet. Impeccable metadata display for arias, long titles with full support for accents and rolling texts.
CON: It sometimes just doesn't work and it takes years to fix it.
Overall rating: ★★★☆☆