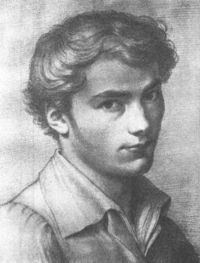 Johannes Brahms considered the poet Johann Mayrhofer "the most serious of all Schubert's friends." This complicated man, full of self-hatred and driven by emotions whose violence he could not accept, transferred the conflict-ridden passions of his inner world into powerful poetry. Applying experimental rhythms and forms, enigmatic language and self-analytical subject matter, Mayrhofer served as the literary muse for 47 songs and two operas set to music by Franz Schubert. Mayrhofer was described by a contemporary as "always ailing, of sickly complexion, quite bony, but with an abnormal nervous system, totally without elasticity; rigid, icy-cold. Thus also his poetic spirit; elegiac misanthropic, rancorous, scolding, sarcastic, symbolically inclined, and in moments of clarity even energetic." An early twentieth-century diagnostic evaluation by psychiatrist Wilhelm Gail summarized, "I would diagnose our poet as a "chronic depressive." Not only his moodiness, but also above all his responsiveness to external stimuli attests to this diagnosis. Inhibitions, an inferiority complex, in short, the fact that his vital energies were incompatible with his sensitivities were hallmarks of his life."
Similarly, Franz Schubert was less than 5 feet in height, plump and short sighted with curly dark hair. He was a quiet and introverted person who was nevertheless prone to dramatic swings of mood. Although he frequented the heterosexual bordellos of the Austrian capital, he was nevertheless involved in a series of submission relationships—romantic and otherwise—with other men, among them Mayrhofer.

Schubert met Mayrhofer in late 1814. Their collaboration began almost immediately with a setting of "Am See" (By the Lake), D. 124. In November of 1818, Schubert moved from his father's house to Mayrhofer's lodgings. Mayrhofer wrote, "Both the house and the room had felt the influence of time. Time had lowered the ceiling and darkened the room by erecting a large building on the other side of the street, an old, over-used piano and a narrow book-shelf and you have the room which, together with the hours I spent there, will never fade from my memory." This kind of living arrangement was rather common in those days, but given the cramped condition it is remarkable that it lasted almost two years. Their landlady, a widow of a French emigrant, described her lodgers as "two somewhat impractical gentlemen." But it was actually Mayrhofer who characterized the relationship in his reminiscences of 1829. "The cross-currents of circumstances and society, of illness and changed views of life kept us apart later; but what had once been was no longer to be denied its rights. I often had to console Schubert's worthy father about his son's future, I dared to prophesy that Franz would surely win through, nay, that a later world would give him his due, slowly though it came to him at first. While we lived together, our idiosyncrasies could not but show themselves; we were both richly endowed in that respect, and the consequences could not fail to appear. We teased each other in many different ways and turned our sharp edges on each other to our mutual amusement and pleasure. His gladsome and comfortable sensuousness and my introspective nature were thus thrown into higher relief and gave rise to names we called each other accordingly, as though we were playing parts assigned to us."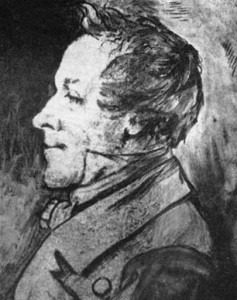 Franz Schubert: "Mayrhofer Lieder," (Selection)
For Schubert, it was not easy living with a depressed hypochondriac, as he told his muse, "cease ailing, or at least dabbling in medicines, and the rest will come of itself." By 1820 their friendship had cooled significantly. While Mayrhofer remained true to the ideas of the Enlightenment, Schubert turned towards a younger generation of poets influenced by the mysticisms of Romanticism. As the two friends drifted apart, Schubert set fewer and fewer of Mayrhofer's texts to music. In 1824 he chose a poem entitled Auflösung (Dissolution) to signal the end of their collaboration and friendship. Mayrhofer was deeply affected by the loss of his friend and collaborator and eventually committed suicide by jumping from the window of his office in Vienna.