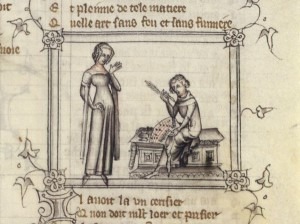 It has long been suspected that intense sexual relationships are an impediment to artistic creativity. Don't take my word for it, just read what Frédéric Chopin had to say about the disastrous effect the Countess Delphina Potocka had on his creativity. "Inspiration and ideas only come to me when I have not had a woman in a very long time… Ballads, polonaises, even a whole concerto may have been lost forever up your… I can't tell you how many. I have been so deeply engulfed in my love for you I have hardly created anything." In other words, unconscious bursts of creativity that engender significant artistic endeavors are not necessarily inspired by passionate romantic love. Greek mythology believed that this kind of stimulus came from 9 muses, the goddesses of inspiration of literature, science, and the arts. Throughout the history of Western art, artists, writers and musicians have prayed to the muses, or alternately, drawn inspiration from personified muses that conceptually reside beyond the borders of earthly love. And thus, I want to share with you some stories of significant works of art inspired by personified muses.

Guillaume de Machaut: Songs from Le Livre dou Voir Dit
You know that things get interesting when old men start writing love poetry in the name of courtly love. Guillaume de Machaut (1300-1377) was in his early sixties and seriously ill when he was inspired by the fictitious love of a 19-year old maiden. Machaut was the last great poet who was also a composer. He lived during a time when high-style poetry and music were intimately linked in sentiment and use. It has rightfully been suggested, "Machaut was the last person to practice both at the highest level." His Le Livre dou Voir Dit is one of the most extraordinary poems of the Middle Ages. In 9094 lines of verse, arranged in octosyllabic rhyming couplets, it tells the story of the love between the elderly Machaut and an adolescent admirer. They fictitiously exchange letters and lyric poems, some set to music by Machaut and inserted into the narrative.

Machaut refers to this young admirer as "Toute Belle" throughout the poem, in which he eventually meets her and accompanies her on a pilgrimage. "Ploures dames" is the first poem set to music, and it takes the form of a will written on the poet's deathbed, in which he leaves his heart to the women whom his poetry has always praised. "I am sending you a ballade about the sad state I've been in, and I ask that you learn the song, for it's not difficult and the music pleases me very much." Interestingly, Machaut's discourse emphasizes the differences between the narrator's expectations of Toute Belle, and her presentation of herself. Machaut sees Toute Belle as his student, muse, and as a submissive and admiring reader. Tout Belle, on the other hand is presented as an active reader intent on fulfilling the dual role of co-author and editor of the Voir Dit. In fact, the creation of Tout Belle is seen as Machaut's greatest innovation in this genre. She is never the simply projection of the poet's desire, "but exists as an independent and moving force in the narrative."

As you might well imagine, a poem of such breath and complexity also needs an imagined and steamy love scene. Proofing once and for all that the brain is the most important sexual organ; their love is passionately consummated as Venus enfolds them in a cloud. For his final musical setting, Machaut provides the following explanation: "My very sweet heart, I've made the rondel where your name is, and I would have sent it to you by this messenger, but my soul I've not yet heard it, and I'm not accustomed to part with things that I've made until I've heard them. And be certain that it's one of the best things I've made for seven years, in my opinion." Here we finally learn that Toute Bell is not an imagined character. The lady's identity is revealed in the form of an anagram, and the name of Machaut's muse was Péronne d'Armentières!