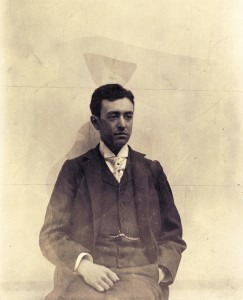 "Minors of the Majors" invites you to discover compositions by the great classical composers that for one reason or another have not reached the musical mainstream. Please enjoy, and keep listening!

Manuel de Falla's small oeuvre includes symphonic, instrumental, vocal and theatrical music. Yet for each genre the piano was clearly his source of inspirations. Although he initially wanted to become a pianist-composer in the Romantic tradition, virtuosity for the glory of performance was never his cup of tea. He wrote in 1915, "I never thought of being a virtuoso. Virtuosity, with its tour concerts, has always horrified me." His earliest piano compositions date from 1896, and include a Nocturne and Mazurka in the style of Chopin. Rather dismissive of these early attempts, Falla later wrote, "I composed them when I was just a child." However, among his early works, the Allegro de Concierto deserves special attention.

Manuel de Falla: Allegro de Concierto
Written for a composition contest at the National School of Music and Declamation in Madrid—essentially the Madrid Conservatory—the work blends Lisztian brilliant pianism with lyrical touches of Chopin and poetic references to Schumann. For that competition, 24 scores were submitted and Enrique Granados unanimously was awarded the first prize. However, the jury wanted to honorably mention six further works, among them the composition by the young Falla. The Allegro finally premiered at a recital given at Madrid's Ateneo on 15 May 1905, but has since virtually disappeared from the concert stage. It is an extremely demanding piece and, probably as a result of Falla's inexperience, its technical complexity sometimes overpowers the flow of the music. During his period of study in Madrid, Falla set his eyes on stage music, and he abandoned his career as a pianist. However, the musician never gave up the instrument as a way of making a living. He considered it a vehicle for spreading the repertoire he admired, a supporting tool during his composing work, and his most direct way of channeling his creative impulse. Of course, in order to make ends meet he also gave countless piano lessons throughout his life!