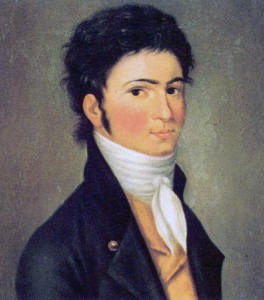 "Minors of the Majors" invites you to discover compositions by the great classical composers that for one reason or another have not reached the musical mainstream. Please enjoy, and keep listening!

During his formative musical years in the city of Bonn, Ludwig van Beethoven (1770-1827) took composition lessons from the Court Organist, Christian Gottlob Neefe. Rightfully considered the most important musical influence on the young Beethoven, Neefe soon recommended his young student to take up the assistant organist position. In support of his nomination, Neefe writes: "Louis van Beethoven, is a boy of 11 years and of the most promising talent. He plays the piano very skillfully and with power, and reads at sight very well. This youthful genius would surely become a second Wolfgang Amadeus Mozart if he were to continue as he has begun." Maximilian Franz, Elector of Cologne quickly accepted Neefe's request, and the Court officially ratified the position. However, not all of Beethoven's duties were confined to his church responsibilities, he was also called upon to compose music for the lavish banquets held at the Court.

Ludwig van Beethoven: Rondino in E-flat major, WoO 25
One of these culinary compositions, the Rondino in E-flat major probably dates from 1793 and was probably also intended to stand as the concluding movement for the Octet, Op. 103. However, Beethoven eventually changed his mind, and the composition was first published in 1830. The horn sounds a broad and mellow tune, which is dutifully answered by the remaining ensemble. Soon the clarinet provides a minor and sorrowful little aria, leading to a delicate interplay between the oboe, horn and the bassoon. The opening tune returns as a refrain, this time gracefully ornamented by the oboe and bassoon. In the second episode, the horns perform a mournful duet, first tenderly intertwining melodic fragments, and later expressing dissonant anguish. The refrain returns once more, with flute and oboe arabesques providing the ornamentation. In the coda, the music quietly looses intensity with the horns providing alternating unmuted and muted passages.