This new release from pianist Cordelia Williams celebrates the notion that small is not only beautiful – but also witty, imaginative, colourful, varied, virtuosic, and transcendent. The piano miniature, of which this disc is a selection of some of the best, is a genre that includes some of the most exquisite and inventive music in the piano's repertoire, pieces which reveal their composer's distinctive character and style in microcosm; they are exquisite musical gems in their own right.
For Cordelia Williams, the appeal of this repertoire is its mercurial nature, changing in an instant, music which "gives us micro-glimpses into countless worlds – inner worlds, literal worlds, dissolving worlds, worlds of imagination – each world contained within a fragmentary passing moment" (Cordelia Williams)
The disc opens with Beethoven's Bagatelle in C Minor, WoO56, a miniature minuet and trio which was not published until 1888. It begins as if lost in thought, suggestive of a fugue, before moving into more restless territory. With its changing moods and keys, it sets the scene for Prokofiev's Visions Fugitives, which follow.
These transient, tiny pieces (the shortest lasts a mere half a minute) display myriad characteristics – impressionistic, witty, grotesque, assertive, playful, introspective, mystical – which suggest far more than the sum of their miniature parts. Cordelia Williams presents each as a distinct and precious thing, her clarity of sound, touch, and expression highlighting their individual details, quirks, and moods.
Sergei Prokofiev: Visions fugitives, Op. 22 – II. Andante (Cordelia Williams, piano)

Sergei Prokofiev: Visions fugitives, Op. 22 – X. Ridicolosamente (Cordelia Williams, piano)

Schumann's Waldszenen (Forest Scenes) provides a neat bridge between Prokofiev and late Beethoven, and takes us into a pastoral world, whose beguiling charm is interrupted by darker, stranger forces. Like the Visions Fugitives, what lies beneath the surface of these pieces hints at the darker recesses of the imagination. This was Schumann's last major cycle of piano pieces; there is a wistfulness or nostalgia in almost every one of these shape-shifting miniatures, a mood which Cordelia Williams captures with sensitively sculpted phrases and subtle pacing.
Robert Schumann: Waldscenen, Op. 82 – No. 4 Verrufene Stelle (Haunted Spot) (Cordelia Williams, piano)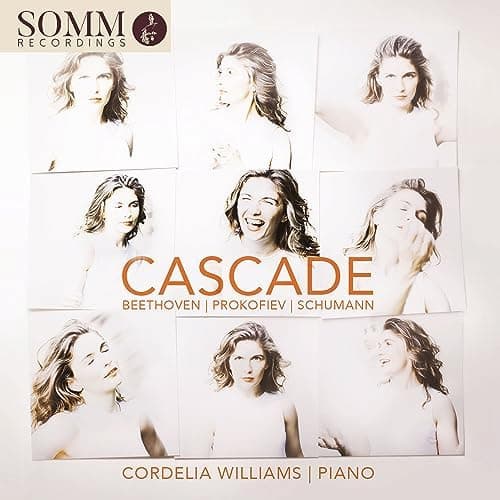 Beethoven described his forays into the bagatelle genre as "kleinigkeiten", literally "trifles", yet these brief works demonstrate an extraordinary range of styles and emotions, from terse to serene to heroic, garrulous, or angst-ridden. They seem to share the same emotional and musical landscape as Beethoven's final three piano sonatas – the third of the set, Andante cantabile e espressivo, comes from exactly the same, other-worldly place as the slow movements of those transcendent sonatas – and indeed the entire opus points to the profundity of the late string quartets. The Op. 126 diverts from strictly classical structures, suggesting improvisation and spontaneity in their concentrated design and intense moods, and Cordelia Williams highlights the individuality of each bagatelle with both precision and lyricism, revealing the extraordinary depth of expression that lies beneath the superficial simplicity of these miniature miracles.
This is, in sum, an intriguing, thoughtfully organised recital disc, and a wonderful introduction to the kaleidoscopic world of the piano miniature, exquisitely performed by Cordelia Williams.
Ludwig van Beethoven: 6 Bagatelles, Op. 126 – No. 4 in B Minor (Cordelia Williams, piano)

CASCADE is available on the SOMM label and via streaming.
For more of the best in classical music, sign up for our E-Newsletter