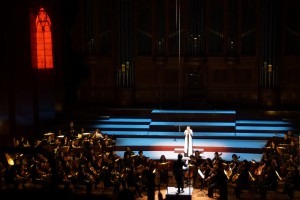 When Lü Shao-chia (呂紹嘉) returned from the Staatsoper Hannover for the directorship of the NSO, he inherited an ensemble already steeped in Austro-German music and musicianship, on account of both the education of many orchestra members and the directorship of Günther Herbig. It's a moment – and momentum – Lü seized and pushed forward giving critically-acclaimed renderings of Mahler and Strauss, with heavy doses of Russian music on the side.

While not absent, the French and Italians figured less prominently in the NSO's lineup, making this past weekend's Messiaen-Puccini doubleheader a concert to to watch, and listen for.

The NSO kicked off with Messiaen's L'Ascension – 4 Méditations Symphoniques, a luminous and searching work of religious devotion that depends on bringing transcendantly light, fluttering, shimmering sound out of the orchestra's strings and casting it against a profound redemption and glory conjured from brass and winds. It is, in other words, very a very un-German undertaking.

Lü managed the feat, but not entirely consistently; in the last movement in particular, which seeks to evoke "Prayers of Christ ascending to his Father", found a firmness that dimmed the shimmer; it didn't quite float.

The second half brought a quick switch, from French-symphonic purity to the narrative-lyrical Italian opera idiom. This semi-staged Suor Angelica leaned largely on Italian-trained Taiwanese singers to spectacular effect; this included the splendidly silky (if, by the finale, slightly tired) Chu Tai-li in the title role. From Messiaen's floating, the orchestra executed a persuasive pivot towards this one-act opera, summoning in the final booming moments a harrowing sense of damnation (and ultimately, redemption) reminiscent of last year's Elektra (please click here to read Nick's review about Electra). It was not flawless – the offstage choir had repeated difficulty keeping up with Lü's beat, and the orchestra-singer balance could use tweaking.

All told, the NSO displayed a versatility that marks them as an orchestra to watch in the coming years.