Haunted by the memory of Julietta, a girl he once spied singing from her window in a seaside holiday town, the Parisian bookseller Michel searches for her in his dreams. He meets a number of characters in increasingly bizarre encounters at that seaside town, who are driven by the fact that they have no memory and can exist only in the present moment. When Michel is made mayor of the town, he murders Julietta and appeases the crowd by telling them a story. He is mercilessly attacked, but not because of the murder, but because the story wasn't very good.
Bohuslav Martinů
's had written the libretto and the music for this discombobulating jumble of memories and dreams in Paris. The original story, entitled "Juliette ou la clé des songes," (Juliette, or the Key of Dreams) was written by the French author
Georges Neveux
, and Martinů saw the play in 1932.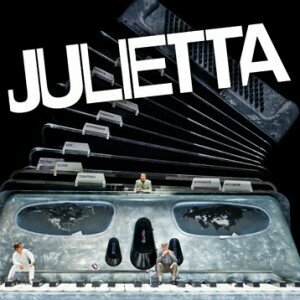 Initially, Neveux had come to an agreement with
Kurt Weill
, who was looking to write a musical comedy on his play. However, Martinů had been mightily impressed by the surrealist play and he quietly composed Act I of a proposed operatic version. He played it for Neveux on the piano, and the French author wrote, "I was literally dazzled by it." As such, he reversed his decision to offer the rights to Kurt Weill. Originally, Martinů prepared the libretto in French, but for the Prague premiere of 1938 he translated the words into Czech. Neveux, paradoxically, traveled to the Czech capital for the premiere in a sleeper car! Somewhat ironically, in an opera about memory, the music itself is less memorable than the staging. However, the extremely episodic nature of the musical material, superimposing brief snippets of melody with dashes of orchestral color and painfully brief chord progressions, credibly lend itself to portray the "Seller of Memories." This shady character is peddling postcards and mementos to the inhabitants of the seaside town in order to provide them with a shard past.