Lo cecato fauzo
(The False Blind Man). A number of additional comic operas followed in quick succession, but by 1722 Vinci had squarely turned his attention to serious opera. In fact, Vinci was instrumental in developing an operatic style that was to dominate 18th-century European opera houses. "Opera seria" or "drama per musica," as it is called, alternated recitatives containing dialogue with arias expressing the emotions of the character. The primary musical emphasis of "opera seria" rested on the solo voice, with chorus and orchestra playing a subordinate role. This emphasis on the solo voice gave rise to the operatic star, with numerous works written to showcase the technical and musical abilities of specific singers. Once Vinci has opened the door to this new way of performing music there was no way back. Giovanni Pergolesi and Johann Hasse quickly followed suit, and even the older composers Antonio Vivaldi and George Frideric Handel incorporated elements of Vinci's style into their later works.
Leonardo Vinci: Catone in Utica, "Va', ritorna al tuo tiranno"
Vinci secured his first commission from a Roman theatre in 1724. From then on, he would write one to three operas each year for Rome alone, while simultaneously composing for Venice, Parma, and Naples. His 1726 collaboration with Pietro Metastasio—the Italian poet and librettist considered the most important writer of opera seria libretti—initiated a highly successful working relationship. More importantly, however, it established the model of the close interrelationship between the words and the music. For the 1728 season, Metastasio wrote the opera libretto Catone in Utica, a complex and passionate story about the Republican Senator Cato's refusal to give in to the demands of Julius Caesar. Caesar has killed Pompey and taken over Rome, and Pompey's widow Emilia is trying to avenge the death of her husband. Meanwhile, Cato's daughter Marzia loves Ceasar, but Cato wants her to marry his ally Arbace. Caesar's ally Fulvio loves Emilia, and when Cato's army is defeated, the Senator is executed. In the end, Marzia marries Ceasar, Emilia leaves in disgrace, and a heartbroken Arbace is resigned to his fate.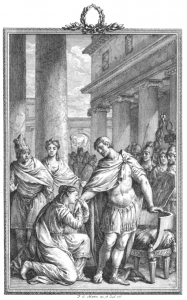 The opera, with music by Leonardo Vinci, was first performed on 13 January 1728 at the theater of Count Giacomo d'Alibert in Rome. At that time, the pope had banned women from performing on stage, and all female parts were sung by the great castrato stars of the time. During the first half of the 18th century, the castrato—a male singer who was prevented from reaching sexual maturity by surgical means—commanded the operatic stage. Their high voices, representing heroic virtues and values in Italian serious opera, were rigorously trained in exclusive singing schools to retain the elasticity and unique sound qualities commonly associated with small children. Catone in Utica was a smashing success, with the libretto and the music serving as the direct inspiration to a number of famous composers. Vinci, however, did not live to enjoy his success. He died in 1730, rumored to have been poisoned over a romantic misadventure. What makes the concert version of Catone, to be performed at the 2015 Bergen International Festival remarkable, is the fact that it will feature an all-male cast! Don't worry, since the gruesome procedure of castration is a relic of the historical past, the castrato parts will be sung by countertenors. Nevertheless, this unique performance is sure to submerge listeners into the characteristic and rich soundscape of 18th-century opera seria.

Leonardo Vinci (1690-1730), not to be confused with his more famous countryman Leonardo da Vinci (1452-1519), was an Italian opera composer active in the city of Naples. He became an overnight success at age 29 with his comic opera in the Neapolitan dialect