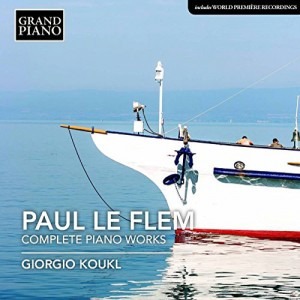 Mélancolie!
From LE FLEM, P.: Piano Works (2016)
Released by Grand Piano
Le Flem: Mélancolie!

Paul Le Flem belonged to the Parisian circle of Martinů, Tcherepnin and Tansman, summing up his own music as a fusion of three influences: his native Brittany, Debussy and D'Indy. His career was sadly interrupted by World War I, but the intense poetry of his earlier works reflect the everchanging land and seascapes of Brittany, and the variety of its mysteries and legends from the lighthearted to the disquieting. Of special note among the première recordings on this album are the atonal Pour la main droite, the wartime Mélancolie with its opening and perhaps ironic quotation from La Marseillaise, and Les Korrigans, a waltz inspired by the Korrigan, a magical creature in Breton folklore.