The singer and conductor Peter Schreier, one of the leading lyric tenors of the 20th Century, has died in Dresden at the age of 84. As one of the most highly esteemed tenors of the century, Schreier hit his mark in numerous performances and recordings of Bach oratorios and cantatas, Mozart operas, and German lieder. Midway through his career, as a natural extension of his approach to singing, Schreier turned to conducting. According to Schreier, "Bach treats the voice like a musical instrument, and instrumental singing means using the voice with a little bit of vibrato, like an oboe or a flute." One of the few international stars to emerge from the former communist East Germany, Schreier did perform internationally and appeared in Vienna, the Salzburg Festival in Austria, the Bayreuth Wagner Festival House in West German, in London (1966), the Vienna State Opera (1967), New York Met (1969), Milan's La Scala (1969), and the Teatro Colón in Buenos Aires (1969). Perfectly balancing vocal elegance, dramatic urgency and musical insight, Schreier once stated, "a day without music is a wasted day."
J.S. Bach: St. Matthew Passion

Son of a church cantor, Schreier was born in Meissen and entered the Dresden Kreuzchor—the boy choir of the main Lutheran church in the city—at the age of 8. His talents were quickly recognized, and Schreier prominently featured as an alto soloist in various performances. When his voice broke, he became a tenor and decided on a career as a professional singer. He took private singing lessons in Leipzig in 1954, and he studied conducting at the Musikhochschule Dresden. All along, he had been singing in the Leipzig Radio Chorus, and his performances as the Evangelist in Bach's Cantatas became legendary. His first operatic appearance dates back to 1944, when he took the role as one of the Three Boys in Mozart's Magic Flute. His professional operatic debut, singing the role of First Prisoner in Beethoven's Fidelio took place at the Dresden State Opera in 1959. As a member of the Dresden State Opera, Schreier traveled to India and the African nation of Mali, but his big breakthrough came in 1962 when he appeared as Belmonte in Mozart's Abduction from the Seraglio.
Wolfgang Amadeus Mozart: Abduction from the Seraglio, K. 384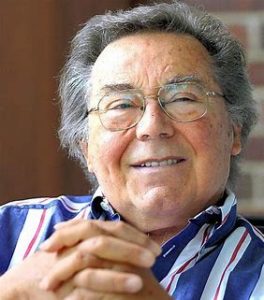 In all, Schreier had around 60 operatic roles in his repertoire. While appearing in the leading houses of Europe, he sang in operas by Rossini, Massenet, Strauss, Wagner, Verdi, Pfitzner, Humperdinck, Tchaikovsky and, especially, Mozart. And he absolutely abhorred contemporary opera productions, including Peter Sellar's staging of Così Fan Tutte. "I don't think you can equalize Mozart with everyday vulgar attitudes," he explained, and he also found the movie "Amadeus, "crude and distorted….We don't need to use the media or vulgarities and exaggerations to make Mozart popular." As his career advanced, Schreier increasingly lent his gloriously lyrical voice to the German lied. Frequently accompanied by Geoffrey Parsons, Norman Shetler or András Schiff in later years, Schreier became known for the expressiveness and the intensity of his renditions. A critic once wrote, "Schreier was an artist particularly suited to the intimacies of the lied, whose delicate application of musical skills to dramatic ends was impressive."
Schreier's recitals were described as memorable occasions, "with his ear as alert to the flicker of the poetry's pulse as the composer's had been more than a century earlier. His hand gestures were those of a speaker rather than a singer, while his fine, expressive phrasing would draw in the listener." Known for his intelligent reading and understanding of the poetry, Schreier was uniquely capable of coloring each verse with different expressions according to the mood of the text. A critic wrote, "he uses so many colors and nuances in a single song that one could question its being performed by one singer." Throughout his recital career he made numerous recordings of lieder on East German labels by Mozart, Beethoven, Schubert, Schumann and Wolf. Schreier ended his career with a performance of Bach's "Christmas Oratorio" in 2005, yet he continued to perform recitals until his health failed. Recipient of numerous awards and commendations, Schreier suffered from back and cardiac ailments, and severe diabetes, and one of the greatest tenors of the 20th century passed away on Christmas Day 2019 in his home city of Dresden.