The now-forgotten genre of 'fantasy of operatic themes' was very important in the 19th century – it served a double duty of preserving the important melodies from favourite operas and also, in the century of the virtuoso, was a showcase for the skill and art of the composer in a virtuoso setting.
Sigismund Thalberg (1812-1871) was a master of this genre. After schooling in Vienna and studying with Mozart's student Johann Hummel, his career took him to the centre of the 19th-century piano universe: Paris. Paris in the 1830s was the centre of activity not only for pianists (Kalkbrenner, Pixis, Herz, and Liszt) but also for piano makers Érard and Pleyel. The Comtesse Marie D'Agoult, Liszt's lover, wrote, in his name, an attack on Thalberg, and the two were immediately viewed as rivals.
After Paris, Thalberg went west, and gave recitals in Brazil, Cuba, and an extraordinary 56 recitals in New York over the space of two years. Thalberg continued his virtuoso career until 1863 whereupon he retired to his vineyards in Posillipo, near Naples.
The popularity and productivity of Rossini made his work a great subject for operatic fantasies. Thalberg created fantasies and grand fantasies on music from La fille du régiment, Don Pasquale, Lucrezia Borgia, Lucia de Lammermoor, and L'elisir d'amore, treating comedies and tragedies alike.
The 1850 composition Introduzione e Variazioni sulla Barcarola dell' Elisir d'amore, Op. 66, takes the second act barcarole, a duet between the quack doctor Dulcamara and the heroine Adina, for its source material. Dulcamara's words, 'lo son ricco, e tu sei bella' ('I am rich and you are beautiful'), provide all the motivation for his actions wooing Adina, unsuccessful as they are.
Thalberg turns the love song into an occasion for pianistic fireworks – runs up and down the piano, arpeggios in the right and left hands, melodies played in the thumbs – all of which emphasize and make variations on the familiar melody.
Sigismund Thalberg: Introduzione e Variazioni sulla Barcarola dell' Elisir d'amore, Op. 66 (Francesco Nicolosi, piano)
Italian pianist Francesco Nicolosi has a dual role as president of the Sigismund Thalberg International Study Centre and is considered the foremost interpreter of Thalberg's works. He is also the artistic director of the Sigismund Thalberg International Piano Competition.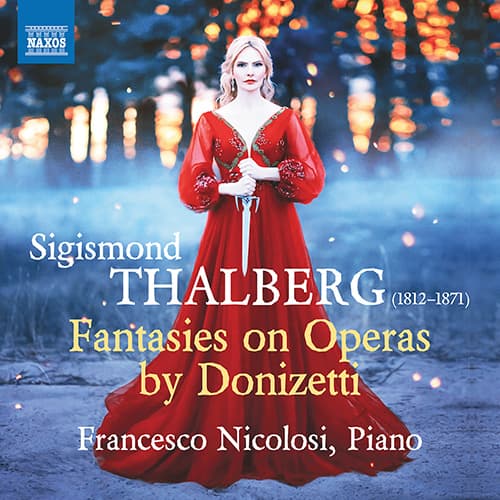 Sigismund Thalberg: Introduzione e Variazioni sulla Barcarola dell' Elisir d'amore, Op. 66

Performed by
Francesco Nicolosi

Official Website
For more of the best in classical music, sign up to our E-Newsletter