In 1909, in the papers of the Academic Concert of the University of Jena, the music director found complete parts for a Symphony in C. Written on the 2nd violin part was 'par Louis van Beethoven' and, on the cello part, 'Symphonie von Beethoven.' This followed what Beethoven himself had written – that he had once attempted a Symphony in C major modelled on Haydn's Symphony No. 97 before he wrote what we now know as his Symphony No. 1. This work fit that description perfectly.
The work was published under Beethoven's name by Breitkopf und Härtel in 1911. It wasn't until the discovery of another copy of the work by the scholar H.C. Robbins Landon that the situation became clear. The work that Robbins Landon discovered in Göttweig Abey was clearly signed by Friedrich Witt and he used that to convince the world that Witt was the composer, and not Beethoven. A second copy of the work found at Rudolstadt, also signed Witt, helped confirm the identification.
Friedrich Witt (1770-1836) was a composer who was born the same year as Beethoven and had his own career as a composer and a cellist. From 1789 to about 1796 he was in the orchestra of the Prince of Oettingen-Wallerstein. While Witt was at the court, Haydn sent copies of his Symphonies Nos. 93, 96, 97, and 98 to Wallerstein, thus giving Witt material for the Jena Symphony. After he wrote his oratorio Der leidende Heiland, the Prince-Bishop of Würzburg appointed him as Kapellmeister in 1802. From 1814, when the court chapel was dissolved, to 1836 he was Kapellmeister at the Würzburg theatre and wrote operas for them, of which few survive.
The Jena Symphony probably dates from sometime between 1792-93 when Haydn's symphonies arrived at Wallerstein and 1796.
When you listen to the work with Beethoven's name attached, you immediately hear in the opening the characteristic rhythmic emphasis that Beethoven had in so many of his works. However, as the work continues, we aren't so convinced. The work has been described as 'a splendid example of symphonic writing from a time when this form was achieving both prestige and popularity with a growing music-loving public.' We really have a work that reflects the state of the symphony after the death of Haydn and before Beethoven's innovations in his Eroica symphony.
Friedrich Witt: Symphony in C major, "Jéna" – I. Adagio – Allegro Vivace
This recording was made in 1952 with The Netherlands Philharmonic Orchestra led by Walter Goehr. Walter Goehr (1903-1960) studied with Arnold Schoenberg in Berlin and became a conductor before being forced to leave Germany in 1937, becoming music director for the Gramophone Company (later EMI). He was a busy conductor for EMI and, after the war, for other European recording companies. He also taught conducting, was a music arranger, conducted for the BBC, and was a composer in his own right, including writing film scores.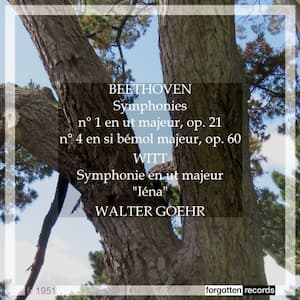 Performed by

The Netherlands Philharmonic Orchestra
Walter Goehr

Recorded in 1952

Official Website
For more of the best in classical music, sign up to our E-Newsletter