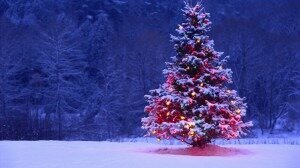 Now that we've looked at the Classics for Christmas, let's look at some of the new music for the holiday season.

When we get to more modern music, the American songs written in the 1940s and 1950s capture our ear. ASCAP, the US music rights organization, compiled a list of the top 25 Christmas songs for the US and what's interesting about the top 10 is that the dates fall into such a small range of years: 1934 to 1957, with most falling during the years of WWII.

| | | | |
| --- | --- | --- | --- |
| Rank | Song | Composer(s) | Year |
| 1 | "The Christmas Song" | Mel Tormé, Robert Wells | 1944 |
| 2 | "Have Yourself a Merry Little Christmas" | Ralph Blane, Hugh Martin | 1944 |
| 3 | "Winter Wonderland" | Felix Bernard, Richard B. Smith | 1934 |
| 4 | "Santa Claus Is Coming to Town" | J. Fred Coots, Haven Gillespie | 1934 |
| 5 | "White Christmas" | Irving Berlin | 1940 |
| 6 | "Let It Snow! Let It Snow! Let It Snow!" | Sammy Cahn, Jule Styne | 1945 |
| 7 | "Jingle Bell Rock" | Joseph Carleton Beal, James Ross Boothe | 1957 |
| 8 | "The Little Drummer Boy" | Katherine K. Davis, Henry V. Onorati, Harry Simeone | 1941 |
| 9 | "Sleigh Ride" | Leroy Anderson, Mitchell Parish | 1948 |
| 10 | "Rudolph the Red-Nosed Reindeer" | Johnny Marks | 1939/1949 |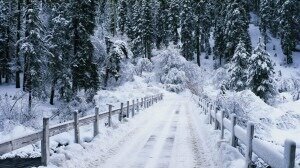 And, of these 10, it's only No. 8, "The Little Drummer Boy" that has any kind of religious reference in it. Everything celebrates the season of snow and Santa Claus or revels in the happiness of being together at holiday time.

Here some of those songs, in a few unusual arrangements.

Mel Tormé says he wrote 'The Christmas Song' during a blisteringly hot summer when he viewed some sample lyrics by Bob Wells about 'Chestnuts roasting…, Jack Frost nipping…, Yuletide carols…, Folks dressed up like Eskimos.' Here it is sung in Swedish by Charlotte Perrelli, winner of the 1999 Eurovision Song Contest.

Tormé: Rimfrostjul (The Christmas Song, "Chestnuts Roasting on an Open Fire") (Charlotte Perrelli)
One interesting song is "Have Yourself a Merry Little Christmas" which has a curiously melancholic turn to it. It was introduced in the movie-musical Meet Me in St. Louis, sung by Judy Garland. She sings it to her little sister, when they are both looking forward to a difficult year of moving away from the town they love and changing times. It almost steadfastly refuses to deal with the present, looking instead to the past ('days of yore') and the future (what will happen next Christmas).


We're never sure what we think of cross-over hits between pop and opera, but this one seems actually quite successful. It's Kiri Te Kanawa and Thomas Hampson walking in a 'Winter Wonderland."

Bernard: Winter Wonderland
For so many of us, the ONLY version of White Christmas is that sung by Bing Crosby, considered to be the best-selling single of all time, with estimated sales in excess of 50 million copies worldwide. It made its movie debut in the 1942 film Holiday Inn. Watch for his whistling section in the 2nd verse.


Nonetheless, we'll take this version by the young Plácido Domingo as a lovely addition to the field. Like "Have you a Merry Little Christmas,' it has a bit of melancholy but the overall imagery of a warm holiday still ring through in the end.

Berlin: White Christmas (Domingo)
And then, if you want to know exactly what you're singing, here's the perfect analysis of Mel Tormé's 1944 'Christmas Song'


We continue our examination of Holiday songs and extend it into the New Year in the next article.