Franz Joseph Haydn
was the famous Kapellmeister at the Esterhazy Palace, and he was called upon to provide some musical entertainment. In keeping with the current fascination with Turkish subjects, which had grown out of the cultural exchange through Ottoman Empire ambassadors, Haydn decided to set an "abduction" opera.
Haydn approached his staff member
Carl Friberth
for a suitable libretto, and it was decided to adapt the French comic play
La rencontre imprévue
by
Dancourt
, which had already served Gluck in a 1764 opera in Vienna. When all was set and done, the opera
L'Incontro Improvviso
(The unexpected encounter) premiered on 29 August 1775.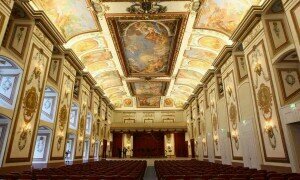 Set in Cairo, the plot features Prince Ali, who is fleeing from his evil brother and ends up in Persia. Once arrived, he falls in love with Princess Rezia, who is unfortunately betrothed to another. They elope but are quickly captured by corsairs and separated. Prince Ali learns that Princess Rezia has been sold to the Sultan of Cairo, and he rushes after her in order to affect a rescue. In the meantime, the Sultan has fallen in love with Rezia and he intends to win her heart by showing kindness, and he allows her considerable freedom. Prince Ali arrives, and they hatch a plot to escape. Ultimately, the escape is betrayed by a greedy Dervish, but moved by the example of pure love, the Sultan pardons Rezia and Ali and gives them his blessing. In the closing chorus the Sultan, at the couple's request, pardons the Dervish but banishes him from Cairo. Given it's exotic theme, Haydn incorporated a battery of Turkish percussion including bass drums into the score.

Franz Joseph Haydn: L'Incontro Improvviso (The unexpected encounter)

Visitations by foreign heads of state can be rather lavish affairs. And that was certainly the case when Archduke Ferdinand and Maria Beatrice d'Este, alongside a retinue of well over one hundred servants, visited the former hunting lodge of Prince Nikolaus Esterhazy in the town of Eisenstadt. They even brought their own wind band and stayed for a total of four days during the late summer of 1775. Of course,