Italian composer Ferruccio Busoni (1866-1924) had an international career in music, starting with his own career as pianist. He studied at the Vienna Conservatory, taught briefly in Helsinki, Moscow, and Boston, and then started his international tours as a pianist.
Before all that, though, he was a child prodigy both in piano and composition. He made his public debut at age 8 with his parents, both professional musicians. Busoni's father was a clarinet virtuoso from Corsica and his mother a pianist from Austria. When he was just a few months old, the family moved from Tuscany to Trieste, placing him in a German-influenced environment. He was largely self-taught in terms of schooling and he learned the piano first from his father. His first compositions are dated from 1873, when he was only 8. His virtuoso piano career started at the same age and he made his concerto debut at age 10, performing Mozart's Concerto in C minor. Looking back on his youth with regret, he later said 'I never had a childhood.' He started study at the Vienna Conservatory at age 9 but left 2 years later. His father had given him an early love of Bach and his study with Wilhelm Mayer in Graz introduced him to the music of Mozart. His travels around the world took him to Leipzig, Helsinki, and St Petersburg, where he won the Rubinstein Prize for both piano and composition in 1890. He next taught in Moscow, moved to Boston and then New York. Finally, he settled in Berlin in 1894.
In 1879, he composed his Solo dramatique for clarinet and piano while he was on tour with his mother in a set of concerts for piano four hands. He had earlier written a suite for clarinet and piano, so he was familiar with the instrument not only from his father's playing but from his own prior compositions. The work is keyed on an ascending scale that is the basis for the first part of the piece. The middle section changes character and is based on a different theme. Through the work, however, the piano is more than just an accompanying instrument. It has its own position in the work that places it on an equal level with the clarinet.
Busoni's childhood compositions show his imagination and taste, but are somewhat limited in terms of melody and melodic invention. As a product of the 13-year-old Busoni, the Solo dramatique has more of a Brahmsian cast than anything contemporary. With the equality of the two instruments, it also makes an interesting statement about Busoni's view of his career in terms of his father's.
Ferruccio Busoni: Solo dramatique, Op. 13 (Ex Novo Ensemble di Venezia)

The Ex Novo Ensemble di Venezia was founded in 1979 by the composer Claudio Ambrosini. The seven musicians he brought together remain with the ensemble. Starting with contemporary repertoire, the ensemble has gradually extended its reach back in time, reinterpreting classical repertoire, with a focus on rarely performed instrumental sets.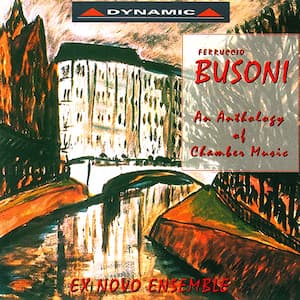 Ferruccio Busoni: Solo dramatique, Op. 13

Performed by
Ex Novo Ensemble di Venezia

Official Website
For more of the best in classical music, sign up to our E-Newsletter