The sea was Richard Wagner's inspiration for his 1843 opera Der fliegende Hollander (The Flying Dutchman). In July to August 1839, Wagner travelled from Riga to London, crossing the Baltic Sea and the North Sea on what proved to be a stormy trip. Wagner was fleeing his debtors, and the trip was so dangerous that his wife Minna suffered a miscarriage when they made an illegal crossing of the Prussian border. The ship's captain let them aboard without passports, which had been seized by the government to protect his debtors from his flight, and they were met with storms and high seas. The normally 8-day trip finished three weeks later.
Wagner was bringing Rienzi to the Paris Opéra, in the hopes that a successful run would restore his fortunes, but the Opéra didn't want Rienzi, and the Wagners were reduced to poverty in Paris, begging handouts from friends. Wagner made some money copying scores and writing reviews, but it wasn't enough.
Wagner used a story by Heinrich Heine, "The Memoirs of Mister von Schnabelewopski," as the basis for a one-act opera, but took Heine's satirical notion that the captain could be redeemed by the love of a good woman as a literal truth in his opera. He started with the construction of the libretto and was successful at selling the story to the Opéra, however, they were not interested in the music. Wagner kept composing and finished the full one-act opera in 1841. He then divided it into 3 acts and the opera finally received its premiere in Dresden in January 1843, with the composer as conductor.
The Dutchman has been condemned to travel the seas forever because of blasphemy. An angel gave him the sentence of only being able to land every 7 years and if he can find a wife who is true to him, his curse will be lifted. In the Overture, we open with a storm motif before presenting the Dutchman and Senta motifs. This was the first opera where Wagner uses musical cues that are linked to specific characters and themes. The storm leitmotif is one such. Wagner hadn't yet codified the use of leitmotifs as strictly as he would do for the Ring Cycle, so the beginning of their use in this opera is an insight into Wagner's development of this musical technique.
Richard Wagner: The Flying Dutchman Overture
This 1959 recording by the Orchestra of the Baden State Opera was conducted by Carl Bamberger. A native of Vienna, Bamberger studied in Vienna before starting as a conductor in 1924 at the State Theater in Danzig. He emigrated to the US in 1937 where from 1938 to 1975, he taught at the Mannes College of Music. He was also chief conductor of The Little Symphony of Montreal. His students included conductors Marin Also, Eve Queler, and Murray Perahia.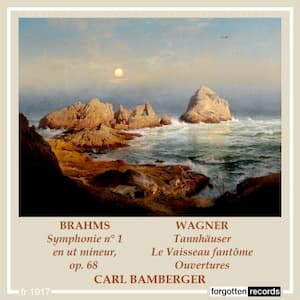 Performed by

Carl Bamberger
Orchestra of the Baden State Opera

Recorded in 1959

Official Website
For more of the best in classical music, sign up to our E-Newsletter