How a lifelong love of Bach led this pianist to transcribe the complete solo cello suites

"Bach first became my beacon when I was about 10 years old. I remember sneaking a peek at my piano teacher's notebook and seeing the words "plays Bach well" under my name. That vote of confidence shaped my musical identity…" Eleonor Bindman, pianist
Bach: Cello Suite No. 1 in G Major, BWV 1007 – I. Prelude (Yo-Yo Ma, cello)


The Six Solo Cello Suites are some of the most celebrated and much-loved works in the classical repertoire, and they continue to fascinate and inspire performers and audiences alike. In this brand new transcription for solo piano, Eleonor Bindman pays tribute to this music's enduring allure. The Cello Suites project grew out of Eleonor Bindman's 'Stepping Stones to Bach', arrangements of orchestral and choral music which aimed to help amateur pianists play Bach successfully. The 2-volume collection includes transcriptions of some of Bach's most popular music, including the 'Badinerie' from the Suite BWV 1067, the chorale prelude "Wachet Auf", "Erbarme dich, mein Gott" from the St Matthew Passion, and three movements from the Cello Suites. Inspired by how gratifying it felt to play those, Eleonor researched existing piano versions of the complete Cello Suites and was surprised not to come across any that were really true to the original.
The only straightforward piano transcription of any movements of the Cello Suites, dating from 1914, is by Russian pianist and impresario Alexander Siloti (1863-1945), a student of Franz Liszt. Siloti's transcription gave Eleonor the resolve to pursue this project and arrange the complete 36 movements as closely to the original as possible. Playing through other variously enhanced piano versions, including an arrangement of all six Suites by Joachim Raff (c.1869-71) and of Suites 2, 3 and 5 by Leopold Godowsky (1924), Eleonor became convinced that the Suites didn't need any "improvement."
Godowsky: J.S. Bach – Cello Suite No. 3 in C Major, BWV 1009 (trans. for piano) – I. Prelude (Konstantin Scherbakov, piano)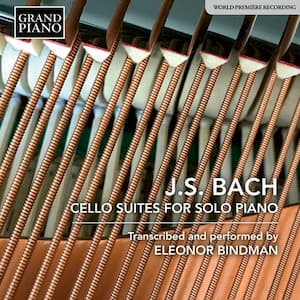 In her transcription, Eleonor has made a number of adjustments due to the different capabilities of the instrument, including slightly faster tempi especially in the Sarabandes, which also help make the harmonic structure more discernible. Here too she endeavoured to imitate the cello sound most closely, which would not have been possible without the marvellous baritone register of her Bösendorfer piano on which her recording was made. Some transpositions have also been necessary, and a variety of embellishments in repeats, some conventional and some more original. The transcription offers scope for some adventurous interpretation, particularly in the wonderfully playful pairs of Minuets, Bourrées and Gavottes.
"The Cello Suites are the essence of Bach, a meditation which mysteriously connects us to ourselves and to the universe at once. My new transcription of this beloved set shows a refreshing perspective to a pianist, unencumbered by counterpoint and zooming in on the individual line, patterns, tone quality, and the great composer's vocabulary. I find the experience of playing the Suites on the keyboard not only aesthetically satisfying but also relaxing and joyful. We could all use an opportunity to enjoy our music-making without unnecessary stress, especially in current times. I am also eager to bring these 36 pieces to many pianists and students because they are immensely beneficial for working on tone and finger technique." –Eleonor Bindman
The recording of Eleonor's transcription, made on her own Bösendorfer piano, is released in October 2020 on the Naxos Grand Piano label, and the sheet music is also in preparation. This is aimed primarily at amateur pianists who relish the opportunity of playing music other than Bach's works specifically for keyboard and who would like to be free of the rigours of complex counterpoint. Like the works included in her 'Stepping Stones to Bach', Eleonor has provided pianists with yet more repertoire to explore, and her elegantly, meticulous transcriptions shine a new light on this wonderful music while also remaining true to the original.
For more of the best in classical music, sign up to our E-Newsletter