After first shaking up our entire concept of opera by taking the audience out of its comfortable chairs and putting on a La Traviata that was more like modern life, Rumiko Hasegawa and More than Musical are looking to improving the future of opera in Hong Kong.
Ms. Hasegawa is collaborating with one of the most innovative summer opera programs in England, The Grange Festival, to place recent arts graduates in a one-month internship at The Grange. The current Chairman of The Grange Festival's Board of Trustees, The Rt Hon Lord Justice Haddon-Cave, has long-standing connections with Hong Kong, through his father, Sir Charles Philip Haddon-Cave, having been Financial Secretary of Hong Kong from 1971 to 1981, and Chief Secretary from 1981-1985. The Chairman was called to the Bar in Hong Kong in 1980. Ms. Hasegawa and the Rt Hon Lord Justice Haddon-Cave could only see advantages in this collaboration.
One of the reasons for More than Musical to work with The Grange Festival is to enhance the performing arts scene in Hong Kong. When experienced stage designers, lighting designers, and costume designers are needed, often the only option is to look outside Hong Kong. Ms. Hasegawa wants to change this by giving recent graduates the opportunity for real experience in the opera work environment. Ms. Hasegawa is looking for recent arts graduates, master's degree students, and graduates who have returned to Hong Kong from their study abroad to apply for these internships.
The Artistic Director of Grange Opera, Michael Chance CBE, will be actively supporting this collaboration not only through taking in the More than Musical interns but also by giving masterclasses here in Hong Kong. The distinguished countertenor made his name through his performances in Baroque opera and in bringing his unique sound to modern opera, singing in operas from Monteverdi to new works by Harrison Birtwistle and Judith Weir. He has been the Artistic Director at the Grange Festival since 2015.
The internships will be of most interest to the behind-the-scenes designers. What Michael Chance will be doing in Hong Kong in addition to his masterclasses will be auditioning singers for the biennial Grange Festival International Singing Competition, the next one to be held in 2021. More exposure for the talents of Hong Kong singers can only benefit everyone.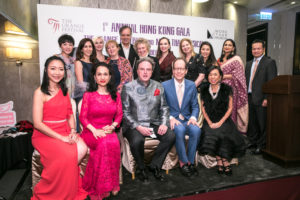 We interviewed Ms. Hasegawa last year about her La Traviata performance and now caught up with on her upcoming Carmen | Hong Kong performance. How do you break up a multi-hour classic into a 90-minute innovation? The first part is modernizing Carmen – she's no longer a Spanish gypsy girl who toils in a cigarette factory, but now is a young woman of Hong Kong, seeking not the perfect lover (hmmm, the failed soldier or the successful toreador?), but rather, seeking to own her own life. This Carmen is a universal Carmen, not an exotic other. As she did in her earlier production, Ms. Hasegawa shadows her singer with another element. In La Traviata, it was a violinist who portrayed the "inner" Violetta. In Carmen, her shadow is a male contemporary dancer who stands not for the inner Carmen but for the society that surrounds her. An interesting twist!
More than Musical seeks to normalize opera, demystify it and reimagine it as a living art form. Ms. Hasegawa's vision lets us see the extraordinary lives that surround us, and with a musical accompaniment as well.
Carmen | Hong Kong performance is postponed to Aug 2020