As far as living legends of music go, for me, Steve Reich is pretty up there. A pioneer of minimalism, this New Yorker's hypnotically enthralling music has been captivating people since his early days in the 1960s, and he shows no signs of letting up now, aged 83. We had the pleasure of working with him recently at Britten Sinfonia, as he travelled across the Atlantic to be at concerts where we played music written only by him – all of it created within the last four years.
Before I delve in, you might be asking, 'What is minimalism?' Minimalism itself encompasses a broad range of styles, but the kind Steve Reich specialises in grew around 1960s America, and is music based on rhythmic and harmonic repetition. Any changes – be they textural, harmonic, or melodic – often happen over much longer time spans than other kinds of Western classical music. If you listen to pieces like Piano Phase, Clapping Music, New York Counterpoint or Music for 18 Musicians, you will hear patterns cut up and laid over one another to give an echoing effect. Music for 18 Musicians is a particular favourite of mine – give it a listen if you want an introduction to this style of music that is immersive, beautiful, and colourful.
Despite being familiar with his work, I'd never actually played a piece by Steve Reich before. With this in mind, I was looking forward to getting stuck in, not least because we were giving the European premiere of a new piece written earlier this year. The work in question, Reich/Richter was, believe it or not, the result of a collaboration between Steve Reich and visual artist Gerhard Richter. Richter had made a film for which he asked Reich to write the music, and the result was an immersive, slowly-shifting yet powerful piece of art.
It was clear to see why Steve Reich sprang to mind for this commission. The film consisted of various lines and shapes, which evolved slowly over time through various lugubrious consistencies. These large-scale transformations played out over 40 minutes, and the feeling of long-term development and repetition are the same qualities that you find in Steve Reich's music, this feeling of a 'process-based' art.
With this said, what struck me most about the new piece was its rapidly shifting harmonies. The work opens with fluid semiquavers rushing around our ensemble, and like a chameleon changing colour, these patterns overlapped each other and seemingly unnoticeably shifted the harmonic spectrum. It's quite a disconcerting feeling to modulate seamlessly from B-flat major to D-flat major!
The feeling of playing to a full Barbican Hall in London was incredible, and to know that the man himself was there listening made it all the more special.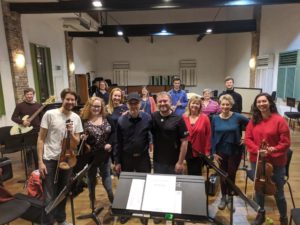 Steve Reich is someone who effectively created a style of music that has become instantly recognisable worldwide, someone whose music has influenced countless other composers and styles; it really is hard to put into words just how important this man's work has been. Whether or not you like it is a different matter – but nobody can deny its importance and influence. With all this said, he was incredibly humble and just happy to hear his music coming to life in our rehearsal room. I left the project feeling uplifted and grateful that I'd been able to delve so deeply into a new work by one of the most prominent composers of our time. His music is still ringing in my head weeks later, having travelled beyond the technical intrigue of his use of repetitive development to discover a real beauty behind the notes.