The Snowman and the Bear (City Chamber Orchestra of Hong Kong)

5PM, Sunday 5 December 2010. Concert Hall, HK City Hall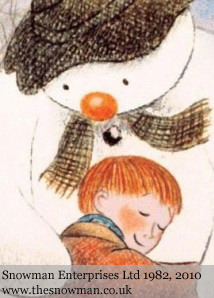 As a pre-Christmas concert for children, featuring a narration of two children's beloved tales with muted animation and a live orchestra for the sound effects, I'd say this is a rather unique concert experience of mine, in a way that this is much more light-hearted and relaxed. The semi-formal opening with the addition of a surprising release of music before the conductor had finished bowing, narrators' interactive conversation with the little minds, the enlightening visit of the Santa Clause all seemed tailor-made for the young eyes. Breaking through the standard all-black dress code, the colourful concert outfit of orchestral members also matched the festive mood of the occasion. Most of the time the orchestra aligned well with the animation and the narrator, in which none of the children listeners had made any noises throughout the entire concert (well, except one or two got too frightened by the white bear and had to be escorted out of the venue howling)! Their eyes firmly attached to the screen, ears to the live music, the children were most attentive to the adventurous animation. And I, as a young adult, quite enjoyed the flying scenes too.


With exclusive dedication to youngsters, it is such unification of all concert matters to suit the young taste that defines its captivating aura- the resonance of children's joyful laughter and pitiful exclamations accordingly which all made the best indicator of full attention throughout. I would credit the success on the use of live orchestra to present the sound effect, as this not only enhanced the delivery of music, but also served as an introduction of classical orchestra to the young eyes. To raise musical interest of youngsters, a slight incorporation of interaction such as story-telling into classical concerts would be more effective than pure solemnity. Afterall, formal concerts in black-and-white with rigid performance rituals are perhaps a little overwhelming to start with. We should not be surprised by the shrinking number of young classical music lovers if there is absence of such means of dissemination in the local music scene.



Gong Dongjian Recital (Opera Hong Kong)

8PM, Monday 6 December 2010. Concert Hall, HK City Hall

Without the grand full orchestral setting, Gong chose to commence his recital with clean-cut simplicity: a concert grand accompanying his upright confidence to deliver Schubert's An die Musik. With a solid timbre in his middle and lower registers, the vocalist has a better delivery on the German repertoires, in particular Brahms' O Tod, wie bitter bist du despite a rather stationery tone colour and texture in others. That said, his ambition to present repertoires which demands technical advancement is most appreciated.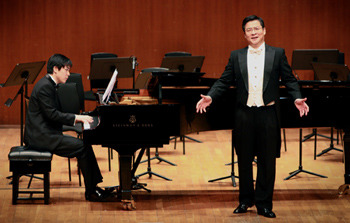 As a somewhat picky audience, I do have to admit that disappointment came during the piano solo interlude Apres une lecture du Dante. A strong basis of finger dexterity was of no doubt. Perhaps the pianist could have been slightly more relaxed to let the musicality flow and texture be felt. A more decisive use of the pedal would certainly clarify the outlines of harmony that lasted relatively longer than previous vocal pieces. Having said so though, the pianist had performed a much better job on his role as an accompanist. I would say he had collaborated well with Gong in Brahms' pieces. Gong's rare collaboration with the Hong Kong City Chamber Orchestra during the concert certainly brought the atmosphere afresh from the majority of piano accompaniment, despite its small divergence with the soloist on the tempo.

Nevertheless, the soloist's selection of his recital programme with a blend of Chinese art songs and western classical repertoires, together with his effort in promoting young musical talents deserve a round of applause.


Photo credits: deltabridges.com, operahongkong.org