Jean-Marie Leclair: Six Sonatas for Two Violins, Op. 3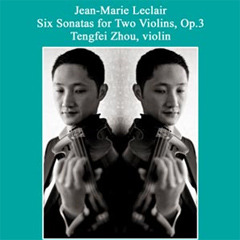 Jean-Marie Leclair: Sonata No. 1 in G major



After two years of research, Tengfei Zhou managed to find music scores for all 6 sonatas for two violins by Jean-Marie Leclair.



Leclair (1697-1764) was a Baroque violinist and composer, considered to have founded the French violin school.



He composed mainly for violins which unfortunately, rarely performed nowadays. Tengfai Zhou, first violin from HKPO has taken up the difficult task of performing both violins in this unique recording.



This is not to be missed.