In 1908, at the end of his 4 years of study in Vienna with Arnold Schoenberg, Anton Webern (1883-1945) wrote his Passacaglia, Op. 1.
The passacaglia was invented in the early 17th century in Spain, but first found its way into print in Italy in 1606. By the 1620s, a passacaglia referred to a set of continuous variations over a bass. The important part of a passacaglia is the bass pattern. One of the most famous examples of a passacaglia is Dido's lament from Purcell's Dido and Aeneas, built over a descending bass pattern.
In his Passacaglia, Webern uses an 8-note phrase as the basis for a set of 23 variations that are grouped into 3 sections. Webern's familiarity with the music of earlier eras is a result of his own researches into music of the Renaissance and the Baroque. We should recall that he was awarded his doctorate in 1906 for his study of Heinrich Isaac.
Although the later Webern we know is a composer of very 'terse' music, the Passacaglia is his late romantic flowering. We can see the influence of his teacher in the work, particularly when we look at Schoenberg's Chamber Symphony, Op. 9, of 1906, two years earlier. Another comparison might be made to Mahler's late works: no matter how complex the orchestral texture, we are still presented with a textural clarity. At times, the orchestra seems to be reduced to a chamber size, if not smaller.
While following the passacaglia format, Webern, at the same time, has managed to put the work almost in sonata form: after the presentation of the theme in the 8 pizzicato notes heard at the beginning, they develop into a central slow section, a section with scherzo elements, and then closes with a highly compressed recapitulation.
The opening 8 notes includes one that is outside the nominal key of D minor, it's the fourth note, the A flat, that opens up the possibilities of extending the tonality chromatically, as Schoenberg had been doing in his works.
Through the work, despite its strict formal demands, Webern adds his own twists: the first and second variations add countermelodies, the 16th variation is the start of a kind of 'development section, and the 20th variation is the start of the recapitulation. The 23rd and final variation forms a coda at the end, returning us to the opening's subdued feeling.
Anton Webern: Passacaglia, Op. 1 (Ulster Orchestra; Takuo Yuasa, cond.)


The Ulster Orchestra, Belfast, Northern Ireland, was founded in 1966 and is the only professional orchestra in Northern Ireland. Japanese conductor Takuo Yuasa started his studies on a scholarship to the University of Cincinnati, before going on to study conducting at the Hochschule in Vienna, in France, and in Italy. His professional career has involved conducting in the Far East, in the UK and in Europe, with an extensive catalogue of recordings.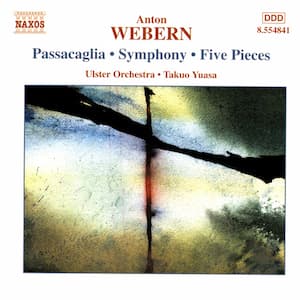 Anton Webern: Passacaglia

Performed by
Ulster Orchestra
Takuo Yuasa

Official Website
For more of the best in classical music, sign up to our E-Newsletter