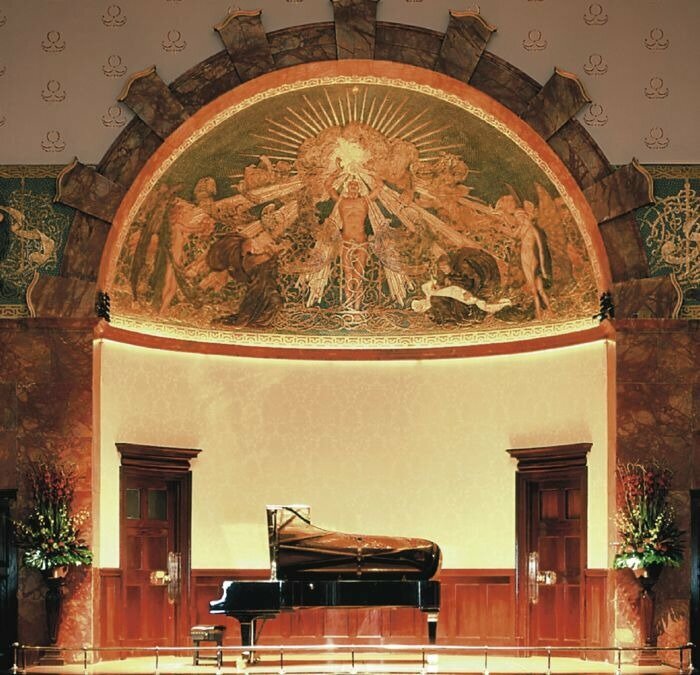 Following the example set by piano builders Pleyel&Cie, rival manufacturers quickly established competing showrooms and concert halls to display and demonstrate their wares to the general public.

Érard provided immediate competition in Paris, with the Steinway Hall opening in New York City in 1866, and the Bösendorfer Hall first inviting the public in 1872 in Vienna. While domestic sales were paramount for the survival of the business, it became increasingly important to attracting buyers in foreign lands.

To promote brand loyalty amongst a growing number of affluent overseas customers, companies spared neither time nor money to establish lavishly decorated concerts halls showrooms in all the corners of the known musical universe.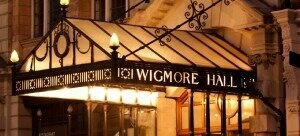 Take for example the Bechstein piano manufacturer. Established by Friedrich Wilhelm Carl Bechstein in Berlin in 1853, the instrument soon attracted the attentions of Hans von Bülow and Franz Liszt. Furthermore, the instrument was awarded several medals at the Great London Exposition of 1862, with the jury commenting on the "remarkable freshness and freedom of tone, the agreeable playing action and the well-balanced registers. Moreover, these pianos can withstand the most vigorous play."

Of course, Bechstein had a lavish concert hall and showroom in Berlin, but at the turn of the 20th century the company entered the "lion's den," as it opened performing and showroom premises in London in 1901.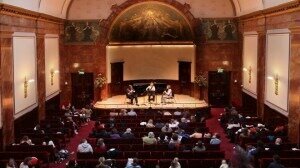 Located at 36 Wigmore Street, the 550-seat Bechstein Hall and the fronting showroom opened on 31 May 1901 with a concert featuring the virtuoso pianist and composer Ferruccio Busoni and the violinist Eugène Ysaÿe.

Bechstein had engaged the famed British architect Thomas Edward Collcutt — who also designed the original Royal English Opera House — to create an interior in neo-Renaissance style. The foyer was lavishly decorated with red Verona and Numidian marble walls, black and white marble flooring and a Sicilian marble stairway. Mahogany wainscoting from the forests of San Domingo adorn the walls of the auditorium, while Numidian marble pilaster and a frieze in red Verona marble is topped with gilt moulding. Gerald Moira designed the famous art nouveau cupola above the stage, while the allegorical painting depicting the Spirit of Music reaching its hands towards the Genius of Harmony was executed by Frank Lynn Jenkins.


Bechstein not only spent a pretty penny on the interior outfitting, he also made sure that his hall would sound one of the best acoustics for classical music in all of Europe. Audiences could not get enough, and in 1902, the Bechstein Hall hosted nearly 300 concerts featuring amongst others, Artur Schnabel, Pablo Sarasate, Percy Grainger, Myra Hess, Arthur Rubinstein, Vladimir Rosing, Camille Saint-Saëns and Max Reger.

On 5 June 1916 — in the midst of World War I — the British government ordered the confiscation of all subsidiaries of German companies in the UK and Bechstein Hall and showrooms were closed and sold at auction in November 1916. The venue was soon reopened to the public under the new name "Wigmore Hall" in 1917.

Throughout the 20th-century, Wigmore Hall enjoyed a number of long-standing associations with performers Elisabeth Schwarzkopf, Andrés Segovia and Peter Pears, as well as the composers Sergey Prokofiev, Paul Hindemith, Francis Poulenc and especially Benjamin Britten.

Wigmore Hall, which is a must for all musical tourists to the UK, was generously refurbished in 2004 and has expanded its offering to include contemporary music, Jazz evenings and World music events.

Fauré – Piano Quartet No. 1 — Allegro molto – Live at Wigmore Hall