Ernest Chausson (1865-1899) studied under César Franck and Jules Massenet at the Paris Conservatoire. Sole living child of an affluent building contractor who had made his fortune in the redevelopment of Paris in the 1850s under Baron Haussmann, Chausson dabbled in writing and drawing after completing a law degree.
He started attending classes at the Conservatoire at age 24 and it is from his classes with Massenet that we have his first preserved compositions, although he had written some earlier songs and piano works. He had the money to travel widely, attending Bayreuth to hear Wagner. He died at age 44 in a bicycle accident when, on a downhill trip, he hit a brick wall and died instantly. A measure of his standing was the number of eminent musicians and artists who attended his funeral, including composers Henri Duparc, Gabriel Fauré, Isaac Albeniz, artists Edgar Degas, Auguste Rodin, and writers Henri de Régnier and Pierre Louÿs.
As a composer, Chausson's first influence was Massenet, who considered Chausson 'an exceptional person and a true artist.' As his artistic horizons expanded, through his friendships with Parisian and international composers, his work became more dramatic. His third period, initiated with his father's death in 1894, became more pessimistic. This last period is when he wrote the work for violin, Poème, op. 25.
Given the initial title of Le chant de l'amour triomphant: poème symphonique pour violon et orchestra, and then Poème pour violon et orchestra, the work is now known simply as Poème. The original story line, with the original title, is worthwhile examining as it gives us a clue that this work isn't simply absolute music, but is telling a definite story.
The plot concerns the unlucky passion…of a young musician for Valeria, who has preferred Fabius to him. On his return from the East some years later, at a dinner, he makes them drink a mysterious wine from Shiraz, then plays on his Indian violin folk-tunes and a melody that is full and passionate, vibrating with joy triumphant, "the song of love happy and triumphant".
The role of violin, representing the unrequited lover-musician, gives the opportunity for a truly emotional performance from the violinist and in the hands of the Belgian violinist Eugène Ysaÿe, who gave the premiere of the work in Paris in 1897, the work became a landmark of the violin repertoire.
The opening, mysterious and dark, uses the solo violin to rise above what one writer referred to as 'the Wagnerian gloom'. The 5 sections of the single-movement work give us alternating slow and fast sections, all with opportunities for the soloist to shine: Lento e misterioso (Cadenza)–Animato–Poco lento–Allegro–Tranquillo. The ending as the work now stands is peaceful and less a song of a love that, in the end, wasn't exactly triumphant, but carries a darker feeling tempered with understanding.
This performance, recorded in 1956 for radio broadcast, has soloist Annie Jodry performing with the Orchestre de la Suisse Romande under conductor Kurt Brass. Annie Jodry studied at the Paris Conservatoire and took first prize at the Concours International de Genève in 1954.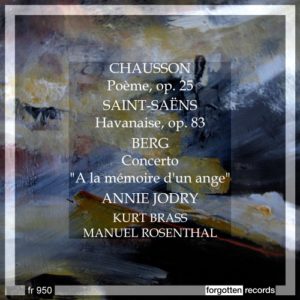 Performed by
Annie Jodry
Kurt Brass
Orchestre de la Suisse Romande

Recorded in 1956 – 1963

Official Website