American composer Richard Danielpour (b. 1956), while working outside New York in Seattle and in Taos, New Mexico, had time to reconsider if he wanted to return to New York City. It's big, it's dirty, there's 7 million other people there, and life can be difficult. Apartments are small, grocery stores are small, the subway is crowded, and there can be a frisson of danger in the air. On the other hand, it's big, at times it feels like the centre of the universe, and the 7 million people bring an internationality that is matched in few other cities. One of our greatest puzzles when living there was when visitors said they wanted to eat "American" food – we knew some of the greatest Thai, Turkish, Chinese, Armenia, Nepalese restaurants, but we didn't think that's what our visitors wanted. That, for us was typical New York food, we didn't deal with "American."
Written in 1992, the work encapsulates the feelings that any native New Yorker has about the city. New York may be a city of contrasts and a city of hard work but it is deeply beloved by its inhabitants in a way that few other cities are. The work was commissioned by the New York Philharmonic for its 150th anniversary.
The world that Danielpour creates could come straight out of Stravinsky's Rite of Spring – rhythmic and elemental and, at the same time, mystical and primitive. But, more to the point, this piece just as easily could be an extension of Leonard Bernstein's musical images of the city: brash, swaggering, tuneful, with Cuban rhythms. By the end of the piece, however, the sharp rhythms have retreated somewhat, leaving us dancing alone in the street. Danielpour's writing has a neo-Romantic heritage that is, at the same time, intrinsically American.
The title of the work comes from the title of Pablo Neruda's 1974 Nobel Prize address – his title, in turn, refers back to Rimbaud who calls for the world to create cities where peace, justice and love flourish. Danielpour asks all listeners to join in this voyage to the splendid city, which we will all create with, in Rimbaud's oxymoronic statement, with 'burning patience.' We go toward the splendid city but with an eye to conquering the city as it now stands to make it better.
Richard Danielpour: Toward the Splendid City (Nashville Symphony Orchestra; Giancarlo Guerrero, cond.)

The Nashville Symphony Orchestra is here led by conductor Giancarlo Guerrero who has been music director of the orchestra since 2009. He has won 6 Grammys with the orchestra.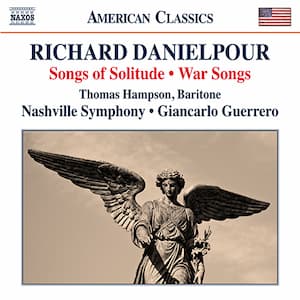 Richard Danielpour: Toward the Splendid City

Performed by
Nashville Symphony Orchestra
Giancarlo Guerrero

Official Website
For more of the best in classical music, sign up to our E-Newsletter