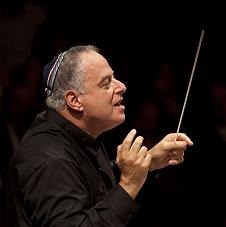 Being chosen by Leonard Bernstein to sing the boy solo part in Chichester Psalms, conductor Daniel Oren seems to be destined for the opera house from an early age. Indeed, when I saw him stepping onto the podium to conduct Puccini's Turandot at the Guangzhou Opera House in June, he was beaming with joy and receiving the enthusiastic applause with all his heart. Since winning the first prize at the first Herbert von Karajan Conducting Competition in 1975, Oren has dedicated his whole life, interpreting masterpieces and living in opera houses around the world, including the Royal Opera House in Covent Garden, the Metropolitan in New York, the Vienna Staatsoper, and the Bastille in Paris, to name just a few. Here, he tells us about his unexpected victory, his inspirations, and discs that he would bring to a desert island.

DO: Daniel Oren
JL: Jenny Lee

JL: You are famous for conducting operas by Verdi and Puccini. How do you see these two Italian composers?

DO: These two Italian composers are the columns of the opera world. If you think that every year, for 200 years, Italy is a destination for lovers, visitors and tourists who go crazy for the works of these two great composers, then you can understand their greatness and emotions that they can transmit.

JL: Would you share with us your encounter with Leonard Bernstein when you were 13, singing the boy solo part in Chichester Psalms?

DO: In Israel, where I was born, most of the young men start to sing, initially for religious reasons. So, me too, I embarked on this experience like other boys. One day, the theatre was seeking a voice to sing the role in the Chichester Psalms by Leonard Bernstein in Tel Aviv. My mother took me in front of a panel of experts, but I did not pass that exam! They said that it was not the right voice for that role! But my mother did not accept the verdict. She managed to get a new hearing directly with Bernstein! In fact, Berstein had heard me when I was 10 years old. I sang some of my compositions, among which one was entitled "mom mom" and some lieder by Schubert. He was shocked by what he heard and he cried! Anyway, after a few seconds, Berstein who smoked forever, like a chimney, suddenly stood up and announced that the lead singer of Chicester had been found! That voice was Daniel Oren.

JL: Who would you regard as your inspiration?

DO: My inspiration is inside the musical scores of each composer! Inspiration is especially easy to find in Puccini's score because he describes every scenery or emotion in details.

JL: Why would you decide to take on a conducting career than a singing career?

DO: Almost immediately after my teenage years! My family with many sacrifices, and with the help of Leonard Bernstein, sent me to Germany to study. In Berlin I met Herbert von Karajan and I attended his courses for conductors. I then won the "Karajan competition". At the age of 20, I was already the Artistic Director of the opera house in Rome!

JL: Desert Island discs – what three records would you bring? And why?

DO: Certainly three discs from the great conductors of the past, Tullio Serafin, Antonino Votto and Arturo Toscanini.

JL: Having been to Turandot, I can see that you are loved by the audience in Guangzhou. What connects you with people in China?

DO: The Emotions! The opera lovers in China are growing at an incredible speed. Most of them are young and fascinated by the musical culture of other countries. In general I think Chinese people are very emotional towards the arts. In my last Turandot in Guangzhou, at the most dramatic moment of Liu's death, I heard people crying!

La Traviata will be performed at the GOH from 27 to 29 September, 2013.