I am sure I have told you that I am an absolute fan of gothic and horror novels and films. From "The Texas Chain Saw Massacre," to "Alien" to "Prey for the Devil" and "M3GAN," I just love them all. Stories of horror have been around since the dawn of humanity, but the Gothic tradition really blossomed in literature in the 19th century. Mary Shelley's "Frankenstein" (1818), Victor Hugo's "The Hunchback of Notre Dame" (1831), Robert Louis Stevenson's "Strange Case of Dr Jekyll and Mr Hyde" (1886), and everything written by Edgar Allan Poe, have created "an enduring icon of horror seen in later re-imaginings on the page, stage, and screen." However, my all-time favorite is Bram Stoker's "Dracula," first published on 26 May 1897. And now you know why "World Dracula Day" is celebrated on that particular date.
Wojciech Kilar: Bram Stoker's Dracula (1992)
Wojciech Kilar: Bram Stoker's Dracula (Cracow Philharmonic Chorus; Polish National Radio Symphony Orchestra; Antoni Wit, cond.)
Before writing his "Dracula" novel, Bram Stoker became versed in Transylvanian folklore and history. It has even been suggested that he drew the character of Dracula from the historical figure of "Vlad the Impaler," but there is predictably disagreement on that notion. The narrative of the "Dracula" novel is exposed through letters, diary entries, and newspaper articles.
Pierre Henry: Dracula, "Episode 1"
Pierre Henry: Dracula, "Episode 1" (Pierre Henry, electronics)
The narrative opens with solicitor Jonathan Harker taking a business trip to stay at the castle of a Transylvanian nobleman, Count Dracula. Harker escapes the castle after discovering that Dracula is a vampire, and the Count moves to England and plagues the seaside town of Whitby. A small group, led by Abraham Van Helsing hunts down Dracula, and kills him in the end.
John Williams: Dracula, "Night Journeys"
John Williams: Dracula, "Night Journeys" (Anne-Sophie Mutter, violin; Los Angeles Recording Arts Orchestra; John Williams, cond.)
Contemporary reviewers loved "Dracula," but cautioned that some readers might find it excessively frightening. The author was praised for "his capacity to entertain, but erred in including so much horror." And a reviewer for the San Francisco Wave called the "novel a literary failure, as the coupling of vampires with frightening imagery, such as insane asylums and unnatural appetites made the horror too overt." However, this has in no way lessened the appetite of the public for the bloodsucking undead. In fact, Count Dracula became the quintessential vampire, and Van Helsing the iconic vampire hunter. And did you know that the story has been adapted for film over 30 times?
David del Tredici: Dracula
Of course, Count Dracula also makes his appearance in dedicated stage works and musical settings. Pulitzer Prize for Music winner David Del Tredici composed a setting of Alfred Corn's poem "My Neighbor, the Distinguished Count." It is written for a soprano-narrator and a chamber ensemble of thirteen players. It retells the story of the famous gothic tale from the point of view of a woman living next-door to Count Dracula. In five scenes, the poem chronicles her "initial disinterest, gradual seduction, then degradation, rejection and, finally, vampiristic transformation."
Philip Glass: Dracula (excerpts)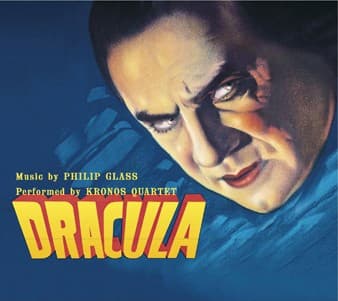 Philip Glass: Dracula (version for string quartet) (excerpts) (Kronos Quartet; Michael Riesman, cond.)
The 1931 film "Dracula" starred Bela Lugosi, and it could be shown to audiences both as a silent movie and as a talkie. In 1999, American composer Philip Glass was commissioned to write a musical score for the film utilizing the famed Kronos Quartet. Not everybody was enthusiastic, but a critic writes, "The music is absolutely beautiful, augmented by the raw, woody sounds of the Kronos Quartet. No refined or reverbed string sounds here; you hear the naked, scratchy sound of a bow on a string all the way through, playing in the interwoven arpeggiated style that is unmistakably Glass. Complex chord structures and dense rhythms permeate the record, making it musically satisfying for both the pedestrian and the sophisticated ear. This will certainly stand out as one of the premiere works in Glass' soundtrack portfolio.
Paul Ramsier: Silent Movie, No. 5 "Dracula"
American composer Paul Ramsier (1927-2021) recalled, "I've often wished that silent movies with live music hadn't become obsolete by the time I started to go to the movies. I've imagined how much fun it would be to improvise music while the action unfolded on the screen with its tense and tender moments." Unsurprisingly, in his set of movements for Silent Movie scored for double bass, "Dracula" features rather prominently. I know that World Dracula Day is celebrated on 26 May, but please don't go around biting people.
For more of the best in classical music, sign up to our E-Newsletter
Paul Ramsier: Silent Movie, No. 5 "Dracula" (Mark Alison Morton, double bass; Christopher Finkelmeyer, piano)