Franz Liszt
Annees de pelerinage, 1st year, Switzerland, S160/R10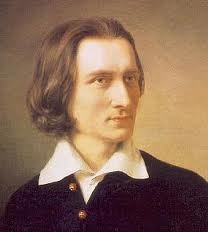 Following the tragic death of her daughter Louise, Marie d'Agoult found herself pregnant with Franz Liszt's child. Since she was still married to Charles d'Agoult, it was impossible to stay in Paris. She wrote her husband in May 1835, telling him that their marriage was over. "When fate has joined two people as different as we are in mind and temperament, the constant effort and sacrifices made on both sides only serve to deepen the abyss between. I ask for your forgiveness on Luise's grave. Your name will never leave my lips except when uttered with the respect and esteem which your character deserves. As for me, I ask only for your silence in the face of the world which is going to overwhelm me with insults." In order to avoid the scandal, which was hardly possible, the lovers made secret arrangements to elope to Switzerland. Parisian society was dumbfounded that a very prominent and beautiful Comtesse should leave her husband for a traveling pianist, and in the public eye the whole affair was branded a flagrant case of abduction. Nevertheless, the couple left for Basle and since Charles d'Agoult had obtained a legal separation from his wife, there was talk of marriage. However, since both were Catholics they would have to change their religious affiliation to Protestants. Franz was not willing to go that far, and in the end, Marie was happier being Countess d'Agoult rather than Mrs. Liszt. Once they arrived in Geneva, Liszt found employment at the Geneva Conservatory and Blandine was born. Liszt registered the birth under his name, but to protect Marie's reputation, he used a false name to protect her identity.



In 1836, George Sand arrived with her traveling companion Major Adolphe Pictet, and the couples toured Switzerland on mules. When they arrived in Chamonix, Liszt filled in the hotel registry as such: "Place of birth-Parnassus; Profession-Musician/Philosopher; Coming from-Doubt; Journeying towards-Truth." Sand in turn wrote: Occupation-Loafer, Date of Passport-Eternity; Issued by-Public Opinion. Sand had always had amorous intentions towards Franz, and apparently towards Marie as well. All we know for sure is that Sand described themselves as "galley-slaves of love who don't know the value of any chain." Shortly thereafter, Liszt performed in Paris, and the friendship/affair between Marie and George rapidly turned to hate. Franz tried to keep the peace, with everybody predictably — including Frederic Chopin — coming to the conclusion that it had all been Liszt's own fault anyway. The couple quickly departed for Lyons, where Marie began her literary career by providing a French translation of Goethe's "Erking," under the pseudonym Daniel Stern. Concordantly, Marie was pregnant with her second child, and she departed for Como in Northern Italy, while Franz briefly visited Rossini in Milan. The relationship still seems to have been on a good footing, as Liszt wrote to a friend: "When the ideal form of a woman floats before your dreaming soul, a woman whose heaven-born charms bear no allurement for the senses, but only wing the soul to devotion, and if you saw at her side a youth of sincere and faithful heart, weave these forms into a moving story of love, and give it the title, 'On the Shores of the Lake of Como.'"

Between 1835 and 1836, Liszt composed a collection of pieces entitled "Album d'un voyageur," which was eventually published in 1842. After some major revisions, the majority of these compositions reappeared in a collection of three suites entitled "Années de pèlerinage." And the first volume, entitled "Première année: Suisse," contains a variety of musical, emotional and pictorial impressions from his time spend in Switzerland. Liszt suggested that in this collection "I have tried to portray in music a few of my strongest sensations and most lively impression." His compositional career was certainly on the right track, and his daughter Francesca Gaetana Cosima Liszt was born in December 1837. Everything should have been idyllic, but Franz was rather bored sitting at home and changing diapers. He decided to start touring, and bitter accusations of infidelity soon followed.