Edvard Grieg (1843-1907) brought the music of Norway out of the shadow of the other Scandinavian countries. Musically educated at the Leipzig Conservatory, he returned home having met a world of international composers from England's Arthur Sullivan, Denmark's Niels Gade, and having heard Clara Schumann play her late husband's piano concerto. It was in Rome that he met the great Norwegian dramatist Henrik Ibsen. He also met a young Norwegian, Rikard Nordraak, who showed him the great potential of the folk music of his home country. With this background, Grieg set out to establish a kind of national musical movement in Norway. This was helped by the establishment of the Norwegian Academy of Music in 1867.
Grieg looked at the Norwegian writer Ludvig Holberg (1684-1754) and wrote a five-movement suite in honor of the celebrations for Holberg's bi-centenary in 1884. Holberg was roughly a contemporary of J.S. Bach (1685-1750) and so Grieg used the Baroque dance forms of Bach's time for his inspiration. The movements are: Praeludium, Sarabande, Gavotte, Air, and Rigaudon.
In the work, Grieg was attempting to write in the style of Holberg's time, using what he knew about that music. So much more research into Baroque music has been accomplished since the mid-19th century that if Grieg were writing today, he'd probably write a very different work. Nonetheless, we hear this as a work of neo-classicism (just as we hear Stravinsky's 1920 ballet Pulcinella, based on works by the 18th century composer Giovanni Pergolesi and others as neo-classical) – it might not sound like the music of Holberg's/Bach's time but it also doesn't sound like the late nineteenth century, either.
Originally written for piano, the work was adapted by Grieg in 1885 for string orchestra, the form in which it is best known today. The lovely Praeludium starts us off rather like a toccata – briskly marching forward in the style of Bach or Scarlatti – but with distinctly Grieg-ian melodies and harmonies. Although the original titles of the work show its historical derivation: "Suite in the Olden Style" became "From Holberg's Time" became "The Holberg Suite", the work is not of the 18th century but purely of today.
Grieg: Holberg Suite, Op. 40 – I. Prelude
This 1959 recording has British conductor Alexander Faris (1921-2015) leading the Sinfonia of London. Mr. Faris was known for his conducting and composing, being best known for his creation of the theme for Upstairs, Downstairs for the BBC. As a conductor, he conducted operas and ballet companies, including the Carl Rosa Opera Company and the Royal Ballet.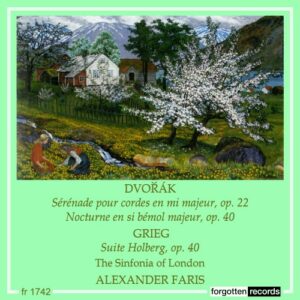 Performed by

Alexander Faris
The Sinfonia of London

Recorded in 1959

Official Website