In 1905, the Spanish composer Isaac Albéniz (1860-1909) published the first book of his piano suite Iberia, subtitled 12 Nouvelles impressions en quatre cahiers (12 New Impressions in Four Books). He dedicated the work to the widow of the composer Ernest Chausson, who had died in 1899 in a bicycle accident. His view of Spain in Iberia is Spanish, yet with more than a tinge of French style in the music. He completed the series in 1908. One of Albéniz' intents in the collection was to create 'Spanish music with a universal accent.'
The music is viewed as a unique turning point between post-Romantic piano music and music of the 20th century. In these works, filled with powerful rhythms, harmonic boldness, and an organization around a central melodic access, we have more than the picturesque in music. We have Spanish music that has been absorbed into the composer and then translated into a new expression. According to Manuel de Falla, the value of the suite for Spain lies in the fact that it represents an atmosphere and an epoch that has gone forever. It shows both the melancholy of the soul and the emotion of the heart. It looks backward at the 19th century world that is nearly out of touch and forward to the rushing arrival of the future.
The third work in this first book was original called Fête-Dieu à Sévilla and later El Corpus en Sevilla and was inspired by the Corpus Christi celebrations in Seville. The festival of Corpus Christi remains important in Seville, being held on the Thursday following Trinity Sunday, 60 days after Palm Sunday. The Corpus Christi procession departs from the cathedral and is accompanied by a silver monstrance dating back to 1578 and religious floats, some holding statues dating from the 17th and 18th centuries. One of the aromatic elements of this procession is rosemary, which is scattered along the route along with other herbs.
The work puts us on the street, waiting for the procession to appear, we hear its bands and the cries of the penitents as it approaches and passes. The street is now deserted and only the sound of distant church bells comes to our ears.
Isaac Albéniz : Iberia – Corpus Christi en Sevilla
This recording by Spanish pianist José Tordesillas was made in 1958. Little is known today about this consummate pianist. He worked for many years as accompanist to the tenor Alfred Kraus.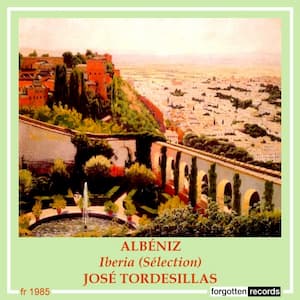 Performed by

José Tordesillas

Recorded in 1958

Official Website
For more of the best in classical music, sign up to our E-Newsletter