I'm not sure what I was expecting when I decided to board Windstar Cruises for my first music cruise, but it definitely exceeded whatever I had in mind. To be frank, I boarded the cruise ship extremely naïve. For one, it was my first time on a boat. Second, I had only discovered my passion for classical music 1 month before. I was looking forward to two weeks off high school to be surrounded by music I loved, new places, and new faces.

On the first night at sea, I was greeted by the sound of the English Chamber Orchestra playing Mozart, Debussy, Massenet and Cimarosa. I had never been so close to the musicians in a live performance before and I loved it. The music was beautiful and I hoped it would last all night. After, I enjoyed socializing with the fellow music lovers and making new friends.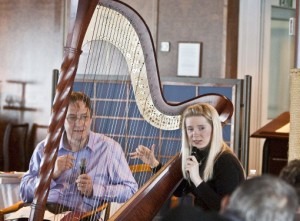 The next day was a day at sea and I attended a talk to Claire Jones, the official harpist to the Prince of Wales, about the harp. It was fascinating. I had never known that the harp could be such a complicated instrument to play! All my life I had thought it a simple instrument where one only strummed strings. How wrong I was when there are seven pedals to control with the feet and different ways of playing each string!


Unfortunately, the next day was the only day where the waves were difficult and many people got sea sick. That evening I heard the English Chamber Orchestra play the Six Romanian Folk Dances by Bartok. The piece hasn't left me and I put it on my ipod the moment I got back home. I also heard the trumpeter Sergej Nakariakov who I had heard much about. "He can breathe and blow at the same time!" was something someone had told me and I was curious to hear him play. I was not disappointed. I must confess though, that I did not particularly care much for a piece by Britten for tenor and horn. Benjamin Hulett, the tenor, was in fact very good. But I did not like the piece.

Later that night, many people had gone to bed early because of the waves but I, who wasn't feeling too well, was too stubborn to go to bed before hearing the last note played for the day. I had heard the rehearsal of Igor Levit, pianist, and Sergei Krylov, violinist, and I was eager to hear more. Though uneducated as I was, even I knew they were both extremely talented and I felt lucky to be able to listen. So I stayed up to hear their recital. I enjoyed the first two movements of the first piece when I suddenly felt very ill. I waited until the end of the movement and left in a hurry. I felt bad for leaving but staying and risking sea sickness in the middle of the recital was a terrifying thought.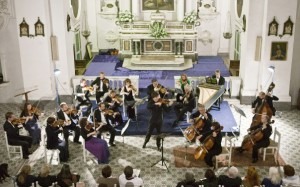 I think I had my best day when I toured Sorrento, Italy. In the morning I heard Igor Levit's rehearsal which was just brilliant and I had a hard time convincing myself to get off the boat to tour Sorrento. I think I could listen to a pianist all day and I wouldn't get tired of it. In Sorrento, I walked around thinking about the upcoming concert which would take place in the Chapel of the Hotel Cocumella. Joshua Bell, violinist, would be playing Vivaldi's Four Seasons there with the English Chamber Orchestra. I had heard a lot of both the Four Seasons and Joshua Bell. I got to the chapel early and when I walked in, I was quite overwhelmed at the sound of the Four Seasons being played in rehearsal. I had half a mind to run back out so as to hear it for the first time in concert. But the temptation was too good and I stayed and enjoyed every moment of it. When I sat down and my eyes focused on Joshua Bell for the first time, my first thought was "I know him! He's on my ipod!" I whipped my ipod out of my purse and there he was front and center on the cover of the album. I almost laughed out loud as I watched and listened as the musicians discussed their music.

After the concert I was exhilarated. That, by far, had been one of the best pieces of music I had heard and I was in the best of moods. I had heard one of the passengers remark "One more note, and I would have dropped dead!" I couldn't help laughing and agreeing with him. Back on the ship, my evening was completed when I heard Igor Levit's recital of Schumann and Prokofiev. I heard people say all around me that that was the best they had ever heard those pieces played. I truly realized how amazing music could be, because as I listened, I would literally feel knots of tension in my stomach as the notes got faster and the tensions leave once the notes slowed down.

The next day was wonderful. I toured Ischia, Italy and visited the beautiful garden of La Mortella. The highlight of the day was by far Handel, Haydn, and Sarasate's pieces played by Sergei Krylov, violin, and the English Chamber Orchestra. I enjoyed it very much. The next morning was the last. In a few hours, everyone would go their different ways as the cruise had ended. I ate breakfast with Joshua Bell though, who talked to my family and I a little about his past and what our plans were after the cruise. Everyone said goodbye then, and we all separated.

There is a lot more I could say about the cruise, how much fun I had. How I wished it wouldn't end. A lot of memorable things happened; like sharing meals with the musicians, the adventures of getting from the ship onto the little, mad-rocking boat that would take us ashore, meeting the passengers and exchanging contact information and of course, the music itself. I had a blast on the cruise. It was truly, the best trip I have ever taken.


Photo credits: swieninkhavard.co.uk