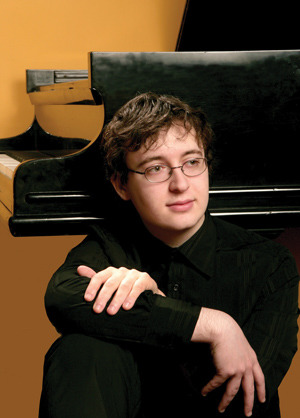 Described by The Washington Post as a "brilliantly polished, profoundly gifted young pianist" following his debut recital at age 20 at the Kennedy Center, the French pianist, organist and composer Jean-Frederic Neuburger has been showing an exceptional musical aptitude and curiosity since his early times.
Born in 1986, Mr. Neuburger began studying piano with Claude Maillols at the Académie Maurice Ravel at the age of nine, and also developed an interest in the organ and composition, which he studied with Emile Naoumoff and Jean-François Zygel.

In 2000, Mr. Neuburger entered the Conservatoire National Supérieur de Musique de Paris, where he received the highest honors in piano, accompaniment, and chamber music in the classes of Jean-François Heisser, Jean Koerner, Itamar Golan, etc.
Since being recognised by the Académie Maurice Ravel at the age of 15, Mr. Neuburger has been the laureate of numerous international competitions, including First Prize at the 2002 Ettlingen International Competition for Young Pianists; Third Grand Prix, the Orchestre Philharmonique de Radio France Prize, the Audience Favorite Prize and the Sacem Prize at the 2004 Long-Thibaud Competition in Paris; and Second Prize at the 2005 London International Piano Competition. In 2006, Mr. Neuburger won the Young Concert Artists International Auditions, and in December of the same year, he was sponsored to give his debut recitals at Carnegie's Zankel Hall, New York, as well as at the Kennedy Center, Washington DC; both performances were enthusiastically received.
Even more than these outstanding achievements, it is for his personality and extraordinary musical maturity that Mr. Neuburger is much sought-after as a recitalist. He has already performed at the renowned Festivals of Radio-France-Montpellier, La Roque d'Anthéron, Menton, les Folles journées de Nantes, Lisbonne and Tokyo, and many others. As a soloist, Mr. Neuburger has appeared with the Baden-Baden Philharmonic, the London Philharmonic Orchestra, the Orchestre Philharmonique de Radio France, the Shanghai Philharmonic, and the New York Philharmonic Orchestra under Lorin Maazel, just to name a few.
Mr. Neuburger is dedicated to discovering new repertoire, whether for solo piano or chamber music, from J. S. Bach to contemporary composers like Dutilleux. In 2003, at the age of 16, he recorded the complete Chopin Etudes for the «Disc'Auvers» collection, a version that has already been compared to those by the great masters, and which immediately placed him among the foremost pianists of today. On the Mirare record label, Mr. Neuburger has released his recording of the complete Carl Czerny "The Art of Finger Dexterity", as well as music by Liszt. Mr. Neuburger has recently been appointed to the position of Professor at the Conservatoire National Supérieur de Musique et de Danse de Paris, and is currently working with Reiko Hozu and Vladimir Krainev.
Related videos:
J. F. Neuburger – Chopin: Revolutionary Etude, at 2008 Verbier Festival

J. F. Neuburger – Bach: English Suite No. 2

Photo credit: kaufman-center.org