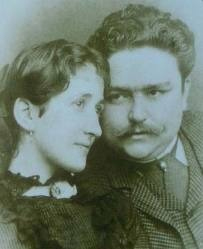 In April 1883, Rosina Jordana Lagarriga — daughter of the industrious businessman S. Simon Jordana, who lived and operated in the Catalonian capital of Barcelona — went to a local music store to look for sheet music by the sensational young pianist Isaac Albéniz. Rosina was slender and tall, with sad black eyes and a distinctively protruding nose, and according to her friends, moved as gracefully as a gazelle. Yet at the same time, she had a finely tuned intellect, and a calm and confident demeanor that reflected the strength of her character. While trying to get her bearings, she approached a young man — immaculately and elegantly dressed and sporting an exquisitely manicured moustache — and asked if he could direct her to any of Albéniz's music. With a broad smile—honed by countless amorous conquests of adoring piano groupies — the young man replied that he could do one better, and gave her an autographed picture of himself. He also invited Rosina to visit his piano studio, and within a week she was taking piano lessons. We are almost certain, however, that Rosina initially rejected all romantic advances. In fact, she might have been the first woman ever to tell the famous pianist to get lost! Not accustomed to these kinds of rejections, Albéniz did the only sensible thing his tormented brain could think of, and he asked for her hand in marriage. And so it came to pass, that a mere two months after that faithful encounter in a music shop, the couple was engaged to be married. The celebrity press quickly reported that the famous pianist was engaged to a beautiful and rich senorita from Barcelona — pretty and discreet, as they put it — and the couple wed on 23 June 1883 at the church of Marc de Déu de la Mercè, in the Gothic quarters of Barcelona.

Albéniz: Suite espanola No. 1, Op. 47 (1886)
Matrimony had an immediate calming effect on Albéniz's lifestyle. Although he continued his frenetic performance schedule in order to feed a growing family — Rosina gave birth to 5 children in quick succession — his musical emphasis starting to shift towards composition. Although nobody actually really believed that the confirmed bachelor had given up his flirtatious ways, Albéniz did adopt a much more settled lifestyle and remained faithful to his wife. Of course, his imposing stage persona — which made him highly attractive and desirable to members of the opposite sex — had been cultivated since his early years growing up in the Catalan region of Spain. Young Isaac showed an astounding proclivity for music, and his sister claimed that he knew his scales and arpeggios by the age of 3, and that his playing was "full of expression". He made his first public appearance at the age of 4 in a benefit concert at the Teatre Romea. At the age of 7 he passed the entrance examination for piano at the Paris Conservatoire, but was rejected on account of his young age. At 9, he toured throughout Spain, and by the age of 12 he embarked on a concert tour of the New World, with included stops in Argentina, Brazil, Uruguay, Cuba, the Antilles and the United States. Once he returned to Europe, Isaac undertook further studies in Leipzig and in Brussels. In Weimar, he made the acquaintance of Franz Liszt, who was so impressed with the young Spaniard's improvisations that he invited Isaac to travel with him for the next two years.

Yet, despite the orgasmic reception of his performances and the unlimited supply of willing female admirers, it was time to change his focus. All he needed, really, even if he did not recognize it at first, was Rosina! From this point onward, he not only became the model husband and father, his performances now always included his own compositions. He derived his newly found creative impulses from the appealing regions and the musical styles of his native Spain, as represented by the 2 Suite Españolas Op. 47 of 1886, and Op. 97of 1886, respectively. Amidst these flourishes of creativity he was diagnosed with chronic nephritis of the kidney, a disease that would eventually take his life in 1909. Shortly before his untimely death, he managed to complete his most influential composition, the Iberia Suite for piano. Full of tender lyricism and the rhythmic vitality so characteristic of Spanish folklore, this masterpiece exerted a pronounced influence on Claude Debussy, Gabriel Fauré, Oliver Messiaen and Francis Poulenc, and Spanish poet and dramatist Federico García Lorca penned the following epitaph to Isaac Albéniz in 1935:

Albéniz: Iberia (1906): Book 1
Albéniz: Iberia (1906): Book 2
Albéniz: Iberia (1906): Book 3
Albéniz: Iberia (1906): Book 4
This stone that we see raised
Over the grasses of death and dark clay
Guard shadow's lyre, sun's last rays,
Lonely, toppled urn of song.

From the salt of Cadiz to Granada
That builds of water an eternal wall
In an Andalusian horse with hard beat,
Your spirit cries out for the golden light.

Oh, sweet one dead too soon!
Oh, music and kindness interwoven!
Oh, goshawk pupil, wholesome heart!

The endless sky sleeps hung with snow
Dream winter of hearth fires, summer of grey
Sleep and forget your former life!