Although written some 40 years apart, the piano trios of Bedřich Smetana (1855, pub. 1880) and Hans Pfitzner (1896) signalled the start of two significant careers. These were the first works of their mature style. Both works are written around the same compositional premise: both use 'motivic recall' or transformation of themes between movements to create an overall structural unity. And, of course, both were received by the critics with some hostility.
Czech composer Bedřich Smetana (1824–1884) had early career plans of becoming an international virtuosic pianist after he saw a performance by Liszt. His father, however, saw music as a nice hobby (he was a brewer to Count Waldstein and played violin in a local quartet and Bedrich's mother was a dancer) and not a profession. Bedřich was studying in Prague at the time, i.e., cutting classes and attending concerts, and his father removed him from the temptations of the big city and placed him with a country cousin in Plzeň, about 90 km west of Prague. When he completed his schooling in 1843, his father changed his mind but couldn't provide any support for his musical career – Bedřich returned to Prague with 20 florins and his ambition. He eventually found a position as a music teacher to a local nobleman's family. Through his teacher in Prague, he met Liszt and Berlioz and through his employer, he met Robert and Clara Schumann. By 1850, he was Court Pianist and was starting to become successful.
Between 1854 and 1855, two of his children died, His second daughter, Gabriella died of tuberculosis, and his eldest daughter Bedřiška, who, at age four showed great musical promise, died of scarlet fever. It was in memory of Bedřiška that he wrote his Piano Trio in G.
Bedřich Smetana: Piano Trio in G minor Op. 15 – III. Finale. Presto
Although the local critics were harsh in their words, Smetana's friend Liszt liked it. Smetana's family woes continued: his fourth daughter, Kateřina, died in infancy and his wife, also Kateřina, was diagnosed with tuberculosis. Eventually, Smetana left Prague for Gothenburg, Sweden, where he started his serious orchestral writing. A trip to visit Liszt in Weimar was the inspiration for the beginning of his opera compositions and the start of his national success. His 1855 Piano Trio found its place when he performed it in 1880 at a concert in Prague celebrating his 50th anniversary as a performer. He died 4 years later in Prague.
* * * *
German composer Hans Pfitzner (1869–1949) was self-declared 'anti-modernist' and as if to prove this point, his most famous opera was Palestrina, about the 16th-century Italian composer.
Pfitzner's father was a professional violinist and Hans had his first instruction from his father. By 1870, he was composing his first music, and his first songs in 1884. He held a number of low-paying jobs in music until 1908, when, age 40, he became opera director and head of the conservatory in Straßburg (Strasbourg). This lasted until after WWI when the German city and Alsace-Lorraine were annexed by France. At age 50, Pfitzner was out of job and left destitute. His pessimistic and elitist personality left him with few friends except for those who esteemed him for his compositions.
His Piano Trio, composed between 1890 and 1896, was given its premiere in Frankfurt in December 1896, performed in Berlin in 1897, and then published. A formally ambitious work, it was killed by the critics, who found its length a problem, and yet its musical content 'trifling' and 'tormented'. The only movement that escaped censure was the second movement.
Hans Pfitzner: Piano Trio In F major Op. 8 – IV. Rasch und wild
Later musicians found the work to be a marvel of structure. Working within the traditional formal frameworks, Pfitzner's music ideas, inventive and 'often arresting', come through in complex textures. The final movement is in a nominal sonata form but then adds further development sections even with the recapitulation. The work is also built around key relationships based on thirds (as would be seen in many later 20th-century works) rather than the usual tonic/dominant.
The piano trio is one of the most important of the classical chamber music ensembles. It's usually made up of piano plus violin and cello with the piano as the central figure of the ensemble. The violin only occasionally takes the solo melody and is often doubled by the piano and the cello is quite subordinated to the piano's central position.
In this recording of Smetana's and Pfitzner's first completed piano trios (Pfizner had an earlier incomplete one from 1886 later finished by Gerhard Frommel), the Wiener Schubert Trio, with Boris Kuschnir on violin, Martin Hornstein on cello, and Claus-Christian Schuster on piano brings out the subtleties of each composer. The Wiener Schubert Trio was formed in 1985 and disbanded in 1993. This recording was made in 1988 (Pfitzner) and 1991 (Smetana) and will be released on November 3rd for the first time.
For more of the best in classical music, sign up for our E-Newsletter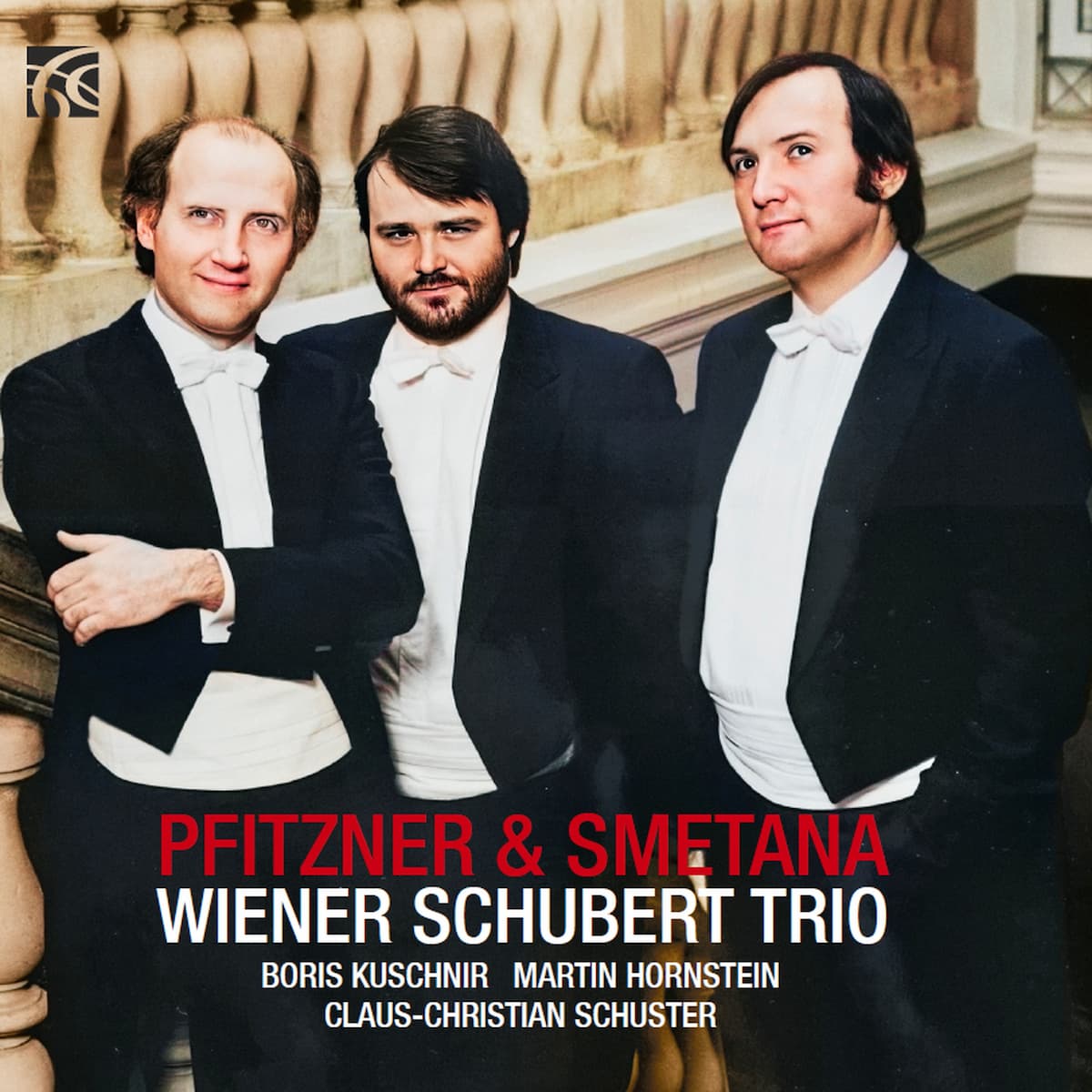 Pfitzner and Smetana
Wiener Schubert Trio
Nimbus Records: NI6441