French composer Lili Boulanger (1893-1918), younger sister to the famous composer and teacher Nadia Boulanger (1887-1979), was ill most of her short life, but at her death, age 24, she had achieved much that would change modern French and international music.
The first woman to win the Prix de Rome, she had been musically talented since childhood. It was at age two that her talent was recognized and nurtured by her musical parents. When she was two, she also fell ill with bronchial pneumonia, which weakened her so much that she spent the rest of her life ill, either with whatever was going around or with the chronic condition of intestinal tuberculosis that finally led to her death in 1918. She was admitted to the Paris Conservatoire, but her health meant that she was rarely able to attend in person and relied on private training in composition and performance. Her father had been awarded the Prix de Rome in 1835, Nadia gave up trying for the prize in 1909, and Lili took up the competition and her 1913 win made international headlines. Her trip to Rome was cut short by WWI and she had to return home but returned in 1916 for a short time before her poor health brought her home again.
One piece that she worked on for nearly 8 years was her setting of Psalm 130, Du fond de l'abîme (Out of the depths of the abyss). Dedicated to the memory of 'mon cher Papa,' who had died when she was 6, the piece is a tremendously dramatic work of great emotion. Begun in 1910 and completed in 1917, it remains one of her most important psalm settings. It has a dark colour, beginning with its opening of rumbling percussion and bits of plainchant in the lower brass and strings. The first entry of the chorus seems frozen, with them chanting the words of the psalm with little inflection. The trumpet acts as a point of focus – ending the opening instrumental section and the choral second section. It's not until the fourth and final section that we have any relief from the sonic gloom. A hint of the major come through like a brilliant light before it's subsumed into the dark modal sound again. Yet, at the end, she gives us a feeling of hope, even in the depths of the abyss, with the entrance of the sopranos, far above the chanting of the other voices, and the stilling of the percussion.
Boulanger: Psalm 130 "Du fond de l'abîme"
This 1952 performance was conducted by André Cluytens leading the Orchestre National of the French broadcasting company. He led them from 1950 through 1960 and took them on extensive tours in Europe and the Soviet Union.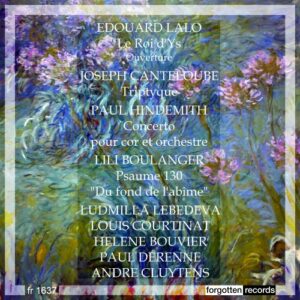 Performed by
Hélène Bouvier
Paul Derenne
André Cluytens
Chœurs de la Radiodiffusion Française
Orchestre de la Radiodiffusion Française

Recorded in 1952

Official Website