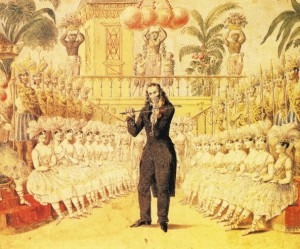 In 1906, Gertrude Clarke of Belleview, Nebraska married Matthew John Whittall —roughly twenty-five years her senior — who had made his substantial fortune producing and dealing in carpets and rugs. While John was busy weaving another mat, Gertrude developed a taste for music and the arts — expensive music and arts! In no time, she had a collection of five Stradivari instruments, and following the death of her husband in 1934, moved to Washington to regale the high society with private concerts and soirées. She donated the instruments to the Library of Congress in 1935/36, together with generous funds to house the treasures in the Whittall Pavilion. By 1941, Gertrude had also purchased and donated to the Music Division a rather large collection of original manuscripts by Bach, Beethoven, Berg, Brahms, Haydn, Felix and Fanny Mendelssohn, Meyerbeer, Mozart, Reger, Clara Schumann, Schoenberg, Schubert, Wagner, and Weber, as well as correspondence between Brahms and conductor Hermann Levi, and letters of Beethoven, Mozart, and Weber. Two additional manuscript collections related to Felix Mendelssohn and Nicolò Paganini were purchased by Gertrude Clarke Whittall funds in 1944. Not all manuscripts deal with music, and the Paganini material includes correspondence, notebooks, posters, prints, personal document, financial transactions and his very own recipe for Ravioli! Crisscrossing Europe as a traveling violinist, where he was routinely hailed as the world's greatest virtuoso — music's first superstar — it is hardly surprising that Paganini developed a rather large appetite. But be warned, this recipe is for meat lovers only!

Ravioli à la Paganini:

Ingredients:

1 1/2 lb. flour
2 lb. lean beef
Butter
Tomatoes
Mushrooms
1/2 lb. lean veal
A calf's brain
Lugano sausage (made from pork, spinach, garlic, Pecorino Romano and ricotta)
An onion
Three eggs
Pinch of borage

Preparation:

For the Sauce, put some butter in a frying pan. Add finely chopped onions and brown lightly. Put in two pounds of ground lean beef and cook until it begins to take on a bit of color. For a thick sauce, take a few pinches of flour and gradually sprinkle them into the meat juices to brown. Then take some tomatoes, break them up in water and pour some of the water into the flour in the frying pan and mix well to dissolve. Finally add some finely chopped and pounded dried mushrooms.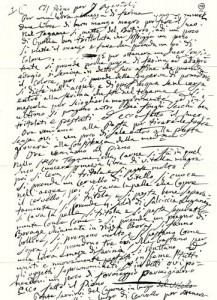 Now for the filling: Using the same pan as for the meat, in the sauce, cook half a pound of lean veal, then remove, chop it and pound it. Take a calf's brain, cook it in the water, then remove the skin covering the brain, chop and pound well, separately take a little lugano sausage, remove the skin, chop and pound separately. Take a good pinch of borage, boil, squeeze out thoroughly and pound as above. Take three eggs, sufficient for a pound and a half of flour. Beat them thoroughly and add the various ingredients listed above, which should be pounded again, adding a little Parmesan cheese to the eggs. And that's the filling!

Now for the pasta: To lift the eggless dough, a little bit of salt in the pasta will help with its consistency. For a ravioli, cut the pasta slightly wet, and leave for an hour covered to give thin sheets. Fill the sheets, cut, cook in boiling water, and serve with the sauce.

Surely you won't have any trouble finding suitable musical entertainment to go with the "Ravioli à la Paganini." There is plenty of choice among his concerto compositions, or alternatively, you may opt for some lesser-known guitar music.

Violin Concerto No. 4 in D minor, MS 60 I. Allegro maestoso

Guitar Sonata No. 14 in F major: Minuet – Waltz: Allegretto

It's somewhat more difficult to find a suitable drink for this seriously meaty dish. Better make it a heavy red; at least you stand a chance of cleansing the calf's brains from your palate!