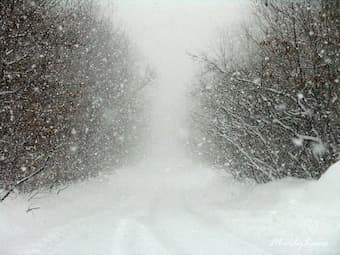 From freezing snow-covered landscapes, blizzards and snowstorms to delicate dancing snowflakes, Winter offers plenty of inspiration to composers of piano music.
Here are five atmospheric pieces which evoke the winter season:
Pēteris Vasks: Balta ainava/White Scenery (Winter from The Seasons)
In this beautiful minimalist piece Latvian composer Pēteris Vasks evokes the special stillness and starkness of a snow-covered winter landscape. The piece uses just two themes – one of delicate quavers, the other a series of gentle chords, punctuated by rests of a precise length as given in the score. The overall atmosphere of the piece is meditative and tentatively hopeful.
Pēteris Vasks: Die Gadalaiki (The Seasons) – No. 1. Balta ainava (White Scenery) (Marcel Worms, piano)

Claude Debussy: The Snow is Dancing
This delightful piano miniature comes from Debussy's Children's Corner suite and depicts the swirling dance of snowflakes caught in the wind through delicate semiquavers. A precise, semi-detached touch and careful pedalling is needed so as not to obscure the melody and texture of this music.
Claude Debussy: Children's Corner – IV. The Snow is Dancing (Alain Planès, piano)

Beat Furrer: Voicelessness: The Snow Has No Voice
The stillness of snow, and that special muffled sound which comes with a heavy snowfall, is exquisitely portrayed in this piano piece by contemporary Austrian composer Beat Furrer. The music's stillness is emphasised by the unpredictable unfolding of its rhythm, which lends an improvisatory atmosphere to the piece. Its limited range of pitch and extremely muted dynamics also enhance its special stillness.
Franz Liszt: Chasse-neige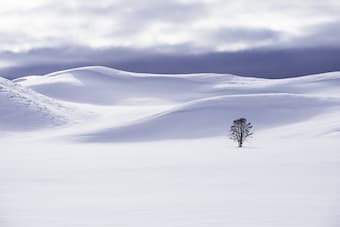 The last of Liszt's twelve Transcendental Etudes for piano, Chasse-neige portrays the cold wind and violent snow in a blizzard. Ferruccio Busoni described the piece as "a sublime and steady fall of snow which gradually buries landscape and people" and Liszt uses tremolos throughout the piece to suggest the unrelenting snowstorm, while chromatic scales represent the cold wind, creating an even more desolate atmosphere. A highly descriptive piece of music, it is considered to be one of the most difficult of all the Transcendental Etudes.
Franz Liszt: 12 Études d'exécution transcendante, S139/R2b – No. 12 in B-Flat Minor, "Chasse-neige" (Boris Giltburg, piano)

John McCabe: Snowfall in Winter
A souvenir of a visit to Vilnius in Lithuania, Snowfall in Winter is a homage to Debussy. McCabe draws inspiration from the repeating "step" motif from Debussy's Des pas sur la neige (Footsteps in the Snow) and his own step motif becomes a recurrent theme throughout the piece, punctuated by flurries of arpeggios. The section marked lontano ("distant") introduces a new motif of chords and accented notes, once again redolent of Debussy. The entire piece is a study in muted dynamics and subtly pedalling.
For more of the best in classical music, sign up to our E-Newsletter