When Zubin Mehta made his conducting debut at New York Carnegie Hall in 1967 a critic wrote, "Mehta has the capacity to control every sound made by an orchestra, and he does this with the simplest of gestures, every one of which has an immediate and perceptible effect. He has a talent for conveying a mood of serenity, or of serene grandeur, to both orchestra and audiences that is rare indeed among the younger generation of conductors."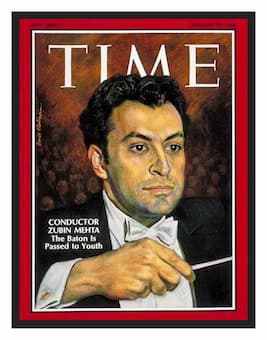 Without doubt, Mehta's performances favour Romantic warmth of expression and voluptuous sonority. A musicologist writes, "It combines a bold attack and rhythmic vigour and is reinforced by boundless self-confidence; at times his concern for theatrical effect has been at the expense of musical depth. An awareness of his audience is often reflected in platform gestures indicative not so much of the musical content as of the desired response of the audience to it." Be that as it may, Zubin Mehta was born on 29 April 1936 in Bombay, India, into a Parsee family, during the British Raj. His father, Mehli Mehta, was a violinist and founder/conductor of the Bombay Symphony Orchestra. His father had previously lived in New York, where he studied with violinist Ivan Galamian, a noted teacher who also taught Itzahk Perlman and Pinchas Zukerman.
Zubin Mehta Conducts Johann Strauss' Radetzky March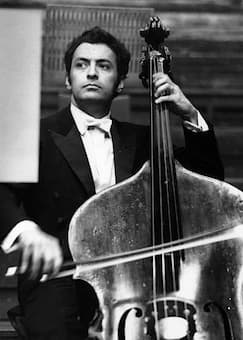 Mehta has described his childhood as an environment surrounded by music, and he "learnt to speak Gujarati and sing at an early age." He was strongly influenced by his father, who first taught him to play violin and piano. Mehta remembers that in his early teens, "his father allowed him to lead sectional rehearsals of the Bombay Symphony, and at sixteen, he was conducting the full orchestra during rehearsals." His mother Tehmina Daruvala Mehta, however, wanted her son to take up a more respectable profession and urged Zubin to study medicine at St. Xavier's College in Mumbai. He dutifully studied medicine for two years, but music won out. At the age of 18 he dropped out and moved to Vienna in order to study music under Hans Swarowsky at the Vienna Academy. A contemporary of Claudio Abbado and Daniel Barenboim, Mehta stayed in Vienna for four years, playing double bass in the Vienna Chamber Orchestra. Swarowsky immediately recognized Mehta's abilities and described him as a "demoniac conductor" who "had it all." During his student days, Mehta witnessed the Hungarian Revolution in 1956, and he quickly organized "a student orchestra in seven days and conducted it in a concert at a refugee camp outside Vienna."
Gustav Mahler: Symphony No. 2 in C Minor, "Resurrection" (Christa Ludwig, mezzo-soprano; Ileana Cotrubaș, soprano; Vienna State Opera Chorus; Vienna Philharmonic Orchestra; Zubin Mehta, cond.)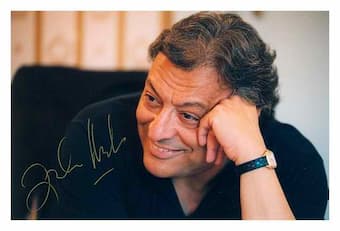 Mehta always had a tremendous sense of social responsibility and he has since taken his music from India to Buchenwald, and from Sarajevo to the Palestinian territories. "He has sought to develop the universal appeal of music and through it to bring peace and comfort to all areas of the world." Mehta graduated at the age of 21 with a diploma in conducting, and he quickly entered the Liverpool International Conductor's Competition in 1958. Mehta took first prize, which included a year's contract as associate conductor of the Royal Liverpool Philharmonic, in which he conducted 14 concerts. He also moonlighted as guest conductor of the Vienna Philharmonic and the Berlin Philharmonic. His spectacular success led to his appointment to the Montreal SO (1961–67), and to the Los Angeles PO, as associate conductor in 1960 and musical director in 1962, a post he held until 1978. "He was then the youngest to hold such an appointment with a leading orchestra in the USA, and the first in North America to share a joint appointment with two major orchestras." Critics generally agree that he transformed an undistinguished orchestra in Los Angeles into a superior ensemble within a few years.
Alexander Scriabin: Le poeme de l'extase (The Poem of Ecstasy), Op. 54, "Symphony No. 4" (Los Angeles Philharmonic Orchestra; Zubin Mehta, cond.)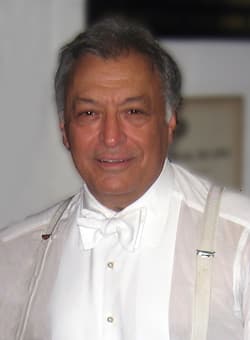 In 1978, Mehta took over the post of Music Director of the New York Philharmonic, commencing a tenure lasting 13 years, the longest in the orchestra's history. And in 1981 he was appointed Music Director for Life with the Israel Philharmonic Orchestra. While Mehta's list of awards and commendations goes on forever, he is particularly proud of the work he has done for music education around the world. Mehta remembers the advice he got in Vienna from the great Dutch conductor Eduard van Beinum. "I said to him, I have a paper from the Vienna Academy that says I'm a conductor. What do I do now." Apparently van Beinum took him by the shoulders, shook him, and said, "Now you swim." Mehta relates, "In my case, my only help was that first time somebody gave me a chance, and it was my achievement during that first concert that I was invited again." Mehta strongly believes in giving young people a chance. As such, he has established a music education program for Israeli Arabs, and three schools, in Shfaram, the Jezreel Valley and Nazareth. Together with his brother Zarin, Mehta constitutes the Advisor Council of the "Mehli Mehta Foundation," and together with the philanthropist Josef Buchmann he founded the Buchmann-Mehta School of Music as a partnership between Tel Aviv University and the Israel Philharmonic Orchestra.
For more of the best in classical music, sign up to our E-Newsletter
Mehta Conducts Beethoven's Symphony No. 3