As a child, Andris Nelsons desperately wanted to become a football player. However, he soon got interested in playing the piano, the trumpet, and singing before turning his attention towards conducting.
Nelsons was born in the Latvian capital Riga on 18 November 1978 into a family of musicians. His father was second concertmaster of the Latvian National Symphony Orchestra, and his stepfather, who raised him, is a choir conductor and music teacher employed by the Ministry of Culture. His mother graduated from the Music Academy in Riga, where she also serves as a professor of choral conducting. In fact, she founded the first early music ensemble in Latvia. Nelsons describes a performance of Wagner's Tannhäuser, which he heard at the age of five, as "the biggest thing that happened in my childhood." The opera made such a strong impression on the young boy that he had a high fever, cried continually, and was unable to sleep for three days. Nelsons remembers, "It had a hypnotic effect on me. I was overwhelmed by the music, and I cried when Tannhäuser died."
Andris Nelsons Conducts Wagner's Tannhäuser Overture (Excerpts)
Nelsons initially studied the piano, but he found that "playing the instrument was entirely too stressful." As such, he took up the trumpet at the age of twelve. However, his musical talents were not limited to playing the piano and the trumpet; he was also a remarkable singer and quickly started to perform with his mother's early music group.
Nelsons studied the trumpet at Emils Darzins Music College in Riga, and he also started to take conducting classes, leading his high school orchestra at a rehearsal. Normund Vaicis, a conductor working with the Latvian National Orchestra becomes his first proper conducting teacher in Riga. After winning the prestigious Latvian Grand Music Award for outstanding achievement in music in 2001, Nelsons enrolled at the St. Petersburg Conservatory to further his trumpet and conducting studies. As a student of Alexander Titov, "he learned to feel the music, and how to transmit its spirit and energy to the orchestra with his hands and his facial expression." Nelsons freely admits that techno makes him feel unwell, and that he "experiences music as nourishment and medicine for the soul."
Andris Nelsons Conducts Mahler (Excerpts)
Nelsons also participated in conducting master classes with Neeme Järvi, Roberto Carnevale and Jorma Panula, but he started his musical career as a trumpeter in the Latvian National Opera Orchestra. Nelsons was still hoping for a career on the podium, and he "always had a dream to study with Mariss Jansons. Everyone in Latvia knew of him, and was very proud of him. But I didn't know how it would happen."
Nelsons got his lucky break in 2001 when Jansons brought the Oslo Philharmonic to Riga. With Nelsons in the audience, one of the orchestra trumpeters got sick. Nelsons recalls, "I ran home, got my trumpet, and jumped in as a substitute in Hector Berlioz' Symphonie fantastique. After the concert, I came to him, shook his hand and told him I'm studying conducting." Jansons took Nelsons under his wing and became his friend and mentor. Jansons refused to take payment, and Nelsons recalls, "we talk about music, I follow his work, and he gave me advice about the psychology of conducting. I learned so much from him about the rehearsing spirit and method, as well as the attitude towards music." For Nelsons, the most important aspect of Jansons' mentorship was the idea that the conductor has to "bring out the inspiration in a piece and inspire the musician. He has to bring out what lies in between the notes."
Andris Nelsons conducts Boston/Gewandhaus in Strauss' Festliches Präludium, Op. 61
Nelsons took on his first professional conducting engagement as Music Director of the Latvian National Opera between 2003 and 2007. He next became Principal Conductor at the Nordwestdeutsche Philharmonie in Herford, Germany, and subsequently, he was Music Director of the city of Birmingham Symphony Orchestra from 2008-2015. With the 2014/15 Season, Nelsons became Music Director of the Boston Symphony Orchestra and the Gewandhausorchestrer in Leipzig, assuming leadership of a pioneering alliance between both institutions.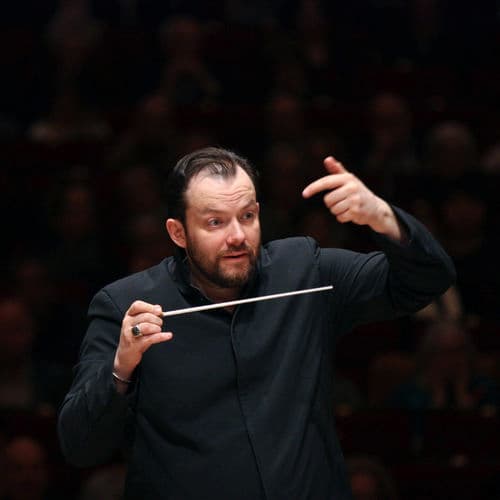 His youthful energy and charisma immediately resonated with players and audiences alike, and a critic writes, "He conducts with concise focus and vigor, eliciting tonal beauty, and visible enthusiasm from the orchestra." Nelsons has an exclusive recording relationship with Deutsche Grammophon, "which has paved the way for three landmark projects with the Boston Symphony Orchestra, the Gewandhausorchester Leipzig, and the Wiener Philharmoniker." And he has big plans for the future. He will take the Boston Symphony Orchestra on a major tour to Japan, and they will continue their guest appearance at Carnegie Hall in April 2023. With Leipzig, Nelsons continues their residency at the Salzburg Easter Festival, and they will also present the Mahler Festival.
For more of the best in classical music, sign up to our E-Newsletter
Andris Nelsons Conducts Shostakovich (Excerpts)