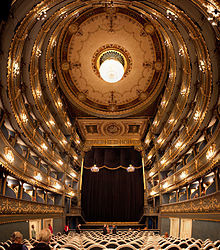 If you are a connoisseur of classical music and an opera buff, today's trivia question is going to be child's play. Here it goes: What is the only theater still standing today in which Wolfgang Amadeus Mozart personally performed? Will it help if I tell you that this particular theater saw the world premier performances of two Mozart operas? And if I also tell you that this theater is not located in Vienna, you probably have the answer already! This most beautiful historic theater, originally dubbed Nostitzsches Nationaltheater — you get extra credit if you can properly pronounce this tongue twister — and which roughly translates to "Count Nostitz's Theater" is located adjacent to Charles University in the city of Prague, Czech Republic. Currently it is named "The Theatre of the Estates," and the two operas in question are Don Giovanni, which premiered in 1787 with Mozart conducting, and La Clemenza di Tito, which was first staged here in celebration of the coronation of Emperor Leopold II in 1791. Designed by Anton Haffenecker and built in less than two years, the theater was primarily constructed to address the demands of the philosophical movement known as the Enlightenment. Amongst a rapidly expanding middle class — including a modern audience for music — the pursuit of learning and love for the arts became, at least in theory, a social right. Public concerts competed with private concerts and academies, and a substantial number of performing venues emerged throughout Europe. Count Nostitz's Theatre officially opened its doors in 1783 with a performance of the theatrical Enlightenment tragedy Emilia Galotti by Gotthold Ephraim Lessing. Intended to produce German dramas and Italian operas, it also began to stage Czech productions by 1785. Mozart first arrived in Prague on 11 January 1787 for a personal visit to hear the much-lauded production of his opera The Marriage of Figaro, which had only enjoyed moderate success in Vienna. One week later, he gave an academy — a term used to denote a concert for his own profit — and conducted the premiere of his Symphony K. 504, subsequently nicknamed the "Prague Symphony."

Symphony No. 38 in D Major, K. 504, "Prague"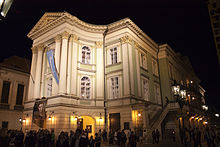 Apparently, Mozart "counted his days in Prague among the happiest of his life," and Pasquale Bondini — the Impresario who had brought The Marriage of Figaro to Prague, commissioned another opera featuring the proven collaboration between Mozart and his librettist Lorenzo Da Ponte. And so it came to pass that Don Giovanni premiered at the Count Nostitz's Theatre on 20 October 1787, with the newspaper reporting, "Connoisseurs and musicians say that Prague has never heard anything like this before."

Don Giovanni, K. 527 – Overture

The theater was purchased by the Czech Estates in 1798 — it was then renamed the "Royal Theatre of the Estates" — and served as the springboard for a number of famous Czech dramatists. In 1862 it was renamed the "Royal Provincial German Theatre," and saw conducting appearances by Carl Maria von Weber, Anton Rubinstein, Karl Goldmark and eventually Gustav Mahler. Between 1920 and 1948 the theater became affiliated with the Czech National Theatre and regained its name "Theatre of the Estates." Renamed once more in 1948 after the dramatist J. K. Tyl, the name "Theatre of the Estates" was eventually reinstated in 1990. Names, particular during political turmoil, will come and go, but this original theater with its original interior — be it refurbished — is still going strong.