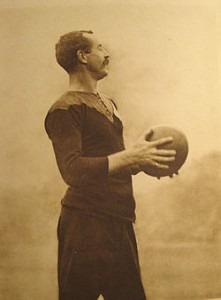 The game of Rugby was developed in English public schools in the 19th century, and none withstanding a number of regional variations, it involves running with an oval ball in hand. It is a contact team sport, and each team can carry, pass or kick the ball to the end zone in order to score as many points as possible.

The game was introduced into France in the early 1870s, and was played at the Paris Summer Olympics in 1900. It once again featured in the 1920 Olympic Games, and has had a large and dedicated following ever since.

Arthur Honegger was a capable amateur athlete and his special interest in things mechanical and sportive resulted in the "movement symphonique" entitled Rugby. Honegger was not looking to imitate the sport musically and wrote, "I very much like the game of football, but I prefer rugby. I find it more spontaneous, more direct and closer to nature than football, which is a more scientific game. I am aware of a carefully controlled rhythm in football and for me the savage, brusque, untied and desperate rhythm of rugby is more attractive. It would be wrong to consider my piece as program music. All it does it to try and express in my own musician's language, the attacks and ripostes of the game, and the rhythm and color of a match at the Colombes Stadium; I honestly feel it is only right to name my sources. That is the reason why this short composition bears the title of Rugby."

Arthur Honegger: Rugby
When the work was performed in London in January 1930, The Times reported, "We might have imagined hearing the forward fiddles engaging in a scrimmage around the conductor, the half-back woodwind passing the ball to the brass, and the basses tackling the trombones low…sadly, it must be confessed that for all it bustle and energy, Honegger's music seems to stay all the time in one place." According to this critic, Honegger's greatest fault was in failing to portray bodily movement convincingly in music. Still, Honegger was wary of music that required visual or symbolic aids and liked to think of Rugby as an absolute, rather than programmatic work. Musically, the match seems never to break away from the scrum, with a broad and harmonically tonal string melody providing contrast and suggesting the more elegant, flowing qualities of the game. Finally, the chorale theme returns victoriously, although we have no idea which team has won.