On 27 May 1784, Wolfgang Amadeus Mozart bought a pet starling bird at a Viennese pet shop.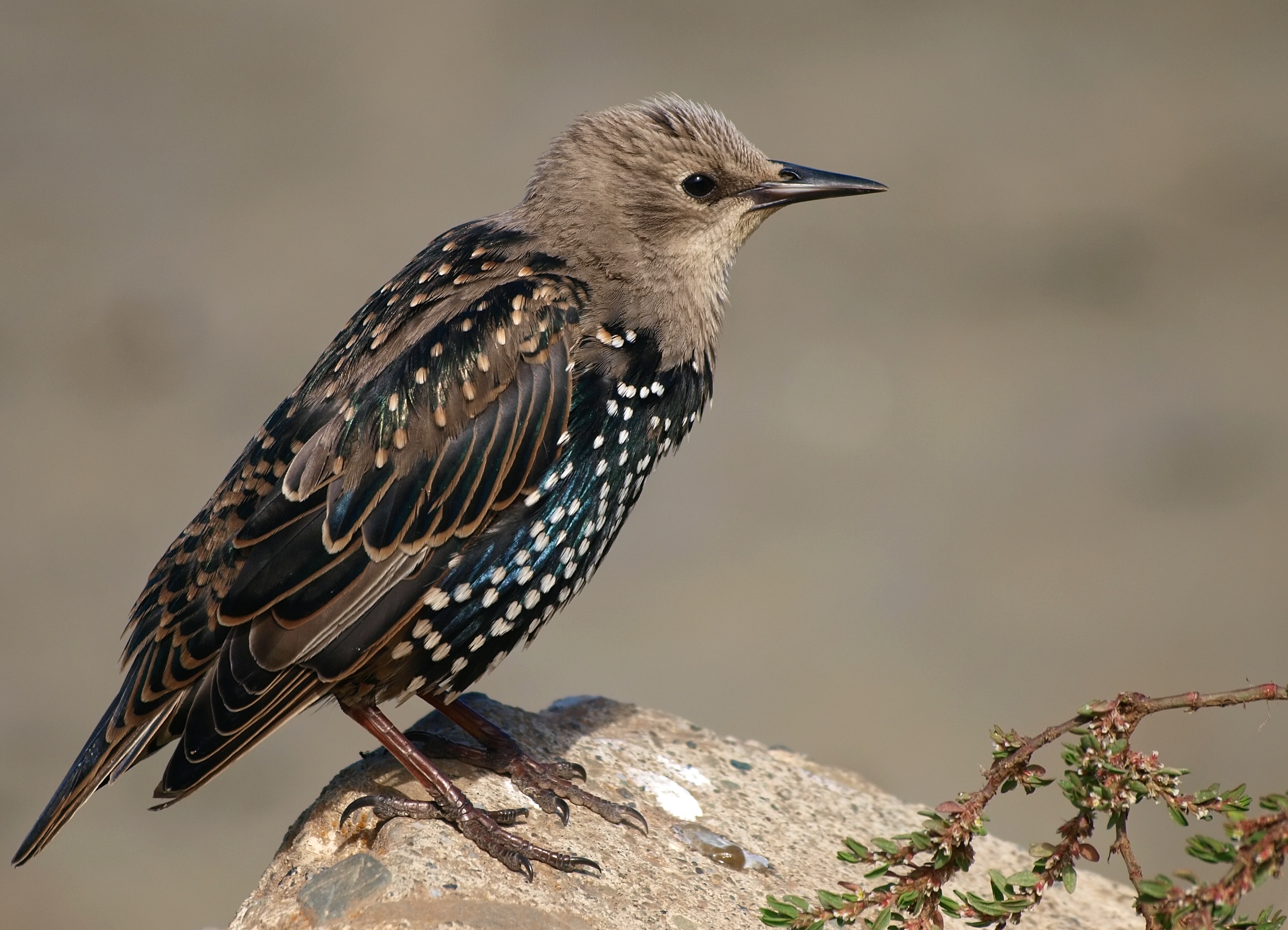 Normally historians and musicologists don't pay much attention to composers' pets, but this starling wasn't your average pet. Because when Mozart recorded the thirty-four kreutzer expense in his diary, he also transcribed a melody purportedly sung by his new bird. He included two versions: one that the bird sang (which included an out-of-place G-sharp), and another that was "cleaned up" for insertion into a piece of concert music.
Eagle-eyed (or -eared!) listeners will immediately recognize this as the theme of the finale to Mozart's seventeenth piano concerto, K453.
Mozart: Piano Concerto No. 17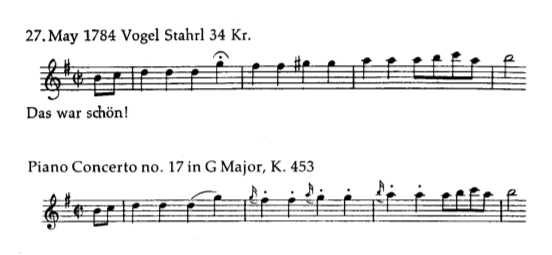 Believe it or not, this pet store purchase actually raises some serious musicological questions. Mozart wrote on the score that he completed the work April 12, and he wrote in his expense diary that he bought the concerto-singing bird on May 27. The earliest public performance of the concerto (that we know of, anyway) was by a Mozart student on June 13.
So what came first: the concerto or the birdsong? Historians have offered a number of potential explanations. Perhaps the concerto was actually premiered in late April, when Mozart gave a concert at the prestigious Kärntnertortheater, and the shopkeeper or another customer then taught the theme to the bird. (To a certain extent, starlings can reproduce melodies that they hear.) Maybe Mozart himself hummed and whistled at the bird during the piece's composition, teaching it the theme for a period of time before he actually bought it. Or maybe Mozart had visited the bird earlier in the spring, been inspired by its song, wrote the concerto, and later came back to buy it. As of today, there is no universal consensus among scholars.
It seems likely that Mozart enjoyed life with his new starling. Despite their modern reputation as invasive pests, starlings are sociable creatures, as well as clever and hardy. Their numbers prove it: a mere 200 released in New York's Central Park in the 1890s eventually turned into 200 million by the 1980s. It's easy to imagine the great composer bonding with such a persistent, vivacious, musical pet.
Tragedy struck Mozart's life three years later. On 28 May 1787, after an illness that had lasted for several months, Wolfgang's father Leopold died. Their relationship had always been fraught, but Wolfgang was still deeply saddened by his father's passing. He wrote to a friend, "You can imagine the state I am in."
Then, a week later his pet starling died. Due to distance, Mozart had been unable to attend his father's funeral. Perhaps in compensation, he planned an elaborate ceremony for his dead pet. Veiled mourners sang hymns, and Mozart himself recited a poem he wrote. It begins: "A little fool lies here / Whom I held dear – / A starling in the prime / Of his brief time."
Scholars are divided as to what exactly the starling actually meant to Mozart. Unfortunately, much of Mozart's correspondence from this era has been lost, so we're left to guess. Was the bird funeral meant as a genuinely heartfelt tribute to a beloved companion and pet? Was Mozart re-directing feelings he had about his father's death onto his bird? Or was the whole funeral ritual merely a sarcastic "serio-comic" observance?
Mozart's next project might offer us a clue. After his father and the starling's deaths, the first composition that Mozart finished was A Musical Joke, K522. Many elements of this divertimento for two horns and string quartet are odd, including its strange harmonies and clumsy orchestration. Some historians believe that Mozart was parodying poor composers, but one credible theory is that he was actually paying tribute to the "illogical" awkwardness of starling song!
Wolfgang Amadeus Mozart: A Musical Joke K. 522 (Dresden Staatskapelle; Otmar Suitner, cond.)

You can read more about Mozart and his starling in American Scientist's March-April 1990 issue, available here.
In addition, a book was released by naturalist and author Lyanda Lynn Haupt called Mozart's Starling. She actually adopted a starling of her own in an attempt to understand Mozart's relationship with his!
Mozart's Starling by Lyanda Lynn Haupt
For more of the best in classical music, sign up to our E-Newsletter