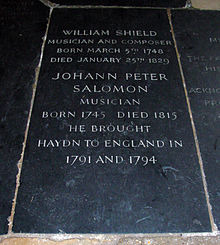 King Edward the Confessor started to rebuild St. Peter's Abbey—today known as Westminster Abbey—between 1042 and 1052 to provide himself with a royal burial church. And thus he started a tradition that saw most Kings and Queens of England, at least until 1760, buried there as well. In time, commoners were accommodated as well, and the nave provides the final resting place for Charles Darwin, Neville Chamberlain, Isaac Newton and various other illuminati. The "Poet's Corner" located in the South transept of the church, meanwhile, houses everybody ranging from Geoffrey Chaucer to Alfred Tennyson; and that includes George Frederick Handel. Of course, there are other musicians scattered around the premises as well, including Muzio Clementi, Henry Purcell, Ralph Vaughan Williams and a chap named Johann Peter Salomon. The gravestone initially does acknowledge Salomon as a musician, but his real claim to fame is inscribed thus, "He brought Haydn to England in 1791 and 1794." Haydn was the most celebrated composer of his time, and getting him to London twice was a work of genius! It certainly established Salomon as one of the greatest artistic headhunters of all time!

Johann Peter Salomon: Romance

Johann Peter Salomon originally hailed from Bonn, and was born at Bonngasse 515. If that address sounds familiar, it should be. Ludwig van Beethoven would be born in the very same house 24 years later. Currently, the location is called the "Beethoven-Haus" and accommodates a museum of Beethoven memorabilia. Salomon was musically highly talented, and he became a violinist in the court orchestra at age 13. A mere 6 years later, he took over as concertmaster of the orchestra of Prince Heinrich of Prussia, and composed a number of operas and an oratorio. Sensing professional opportunities abroad, Salomon moved to London around 1780 and entrenched himself into the musical life of the English capital. He worked as a composer, performed as a celebrated violin soloist, and was part of an eminent string quartet. In addition, he also began to arrange concerts and brought a number of international performers to London. However, everybody in London was chasing Joseph Haydn, and Salomon soon got into the mix. In 1781, the violinist W. Cramer wrote to Haydn and offered to engage him at any cost for the "Professional Concerts," and the owner and manager of the King's Theatre in Drury Lane, John Gallini, practically begged him to write an opera for him. In the end, Haydn was at his most gracious, but he nevertheless turned down all offers.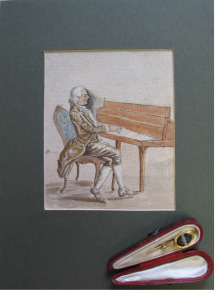 In November 1789, Salomon came up with his own cunning plan to secure the personal services of Haydn. He sent the well-known music publisher John Bland to Esterhazy to purchase some new Haydn compositions, but secretly and more importantly, he was to lure Haydn into coming to London personally. In the end, Bland did get some new compositions, but Haydn was not willing to take leave from his "well-loved prince." Things changed significantly when Prince Nikolaus died in Vienna on 28 September 1790. His son Anton sacked the court orchestra and sent Haydn into pension. Salomon's timing was impeccable! He personally visited Haydn, and after a couple days of hesitation and concerns of how Haydn would deal with such a long journey, the
Morning Chronicle
published the following announcement. "Mr. Salomon having taken a journey to Vienna purposely to engage the celebrated Haydn, Chapel-Master to his present Highness Prince Esterhazy, to come to England, most respectfully acquaints the Nobility and the Gentry that he has actually signed an agreement with Mr. Haydn." This was a win-win situation for everybody. Haydn received the princely sum of 1200 pounds—far more than he had previously earned; Salomon would arrange the eagerly awaited series of concerts in the Hannover Square Rooms featuring the composer and his latest works; and the public was presented with the pinnacle of Haydn's symphonic oeuvre!
Joseph Haydn: L'anima del filosofo, ossia Orfeo ed Euridice
On the first journey together, Salomon and Haydn passed through the town of Bonn, and famously met the young Beethoven. Haydn's first visit to London was a veritable whirlwind of activities. He not only composed six symphonies, which he dutifully performed at various concert series and benefit concerts, but also wrote an opera for Sir John Gallini, Salomon's partner in the venture and owner of a new opera house under construction. Haydn didn't even know the subject of the opera until after his arrival in London. In the end, Haydn did complete L'anima del filosofo, ossia Orfeo ed Euridice but the complete work was not performed. Rather, assorted arias from the work appeared on the concert stage. Yet Haydn was a crafty character, as he made a personal copy of the opera that was contracted to be Gallini's property. All in all, however, Haydn's first visit to London was a rousing success. Since Haydn was not available for the 1793 season, Salomon engaged the violin virtuosos Giovanni Battista Viotti, advertised as Europe's greatest violinist. However, as we all know, Haydn was back in London the following year and found himself the object of still greater attention and admiration. Part of the contract stipulated that Haydn ceased all rights to the works composed for Salomon's concert series. Given the enormous popularity of the twelve London symphonies Salomon quickly went to work and arranged them for various chamber groups, which he then issued in his own publishing house. Salomon's highly popular arrangements, as it turned out, reached the public before the first orchestral parts were issued elsewhere. History remembers Salomon as "not only a clever and sensitive impresario, he was also generous, scrupulously honest, and very efficient in business matters." Beethoven commented upon Salomon's death, "it grieves me much, for he was a noble man, and I remember him since I was a child."

Joseph Haydn: Symphony 104, arranged J. P. Salomon