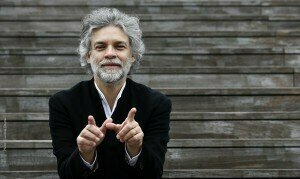 "Playing a concerto with orchestra is the utmost gift a pianist can receive!"

Ahead of his Hong Kong Sinfonietta début under Gabor Kali in Beethoven's Piano Concerto No 3, French pianist François-Frédéric Guy talks to Frances Wilson about influences and inspirations and the pleasure and challenges of working with orchestras…

Who or what inspired you to take up the piano and make it your career?

I heard my father playing Chopin, Grieg and Schumann at home almost every evening on our small upright piano. Then I tried to imitate him! As I was gifted, he decided to do everything necessary to help me in my development as a musician: courses with great teachers, day to day work. He believed in my musical career from the very beginning and that was probably the most important.

Who or what are the most important influences on your playing?

Arthur and Karl-Ulrich Schnabel (with whom I really learned my Beethoven), then Leon Fleisher, who was for me a kind of Mentor, and Christian Ivaldi, who opened my brain to the world of Wagner and Strauss, which radically influenced repertoire and the texture of my personal sound.

What have been the greatest challenges of your career so far?

Playing the 32 Beethoven sonatas in 10 days.

What are the particular challenges/pleasures of working with an orchestra/ensemble?

Playing a concerto with orchestra is the utmost gift a pianist can receive! The piano concerto repertoire is just fabulous and I always feel like it's an achievement in a solo career. The main problem is to build a relationship with a conductor in a very short rehearsal time. You can feel a kind of frustration sometimes. It is why my relationship with Philippe Jordan is very special, as we have recorded and played so many concertos together since 2007. The musical result is amazing because we feel like chamber music partners.

Who are your favourite musicians?

Among others – Furtwangler, Celibidache, Barenboim, Boulez, Brendel, Pollini and Sokolov. I rediscovered Arrau recently: a genius.

Regarding the conductors I've played with I would mention Esa-Pekka Salonen, Daniel Harding, and of course Philippe Jordan. Recently I played with the young conductor Edward Gardner: he was astonishing.

What is your most memorable concert experience?

Philippe Jordan conducting Parsifal in Bayreuth.

What do you consider to be the most important ideas and concepts to impart to aspiring musicians/students?

Do not only work solely at your instrument, although it is crucial to spend hours practising. The main thing is to have an extensive knowledge of orchestral and operatic repertoire in order to make the piano sound like an orchestra.

Where would you like to be in 10 years' time?

Any place where I could perform Beethoven's music.

What is your present state of mind?

Promethean!

François-Frédéric Guy performs Beethoven's Piano Concerto No. 3 at Hong Kong City Hall on 25 May at 8pm.

Beethoven – Pathétique sonata second movement
François-Frédéric Guy is widely regarded first and foremost as an outstanding interpreter of the German romantics and their forebears. The way he creates musical structure in sound is unrivalled, especially evident in his interpretations of Beethoven, with whom he has a particularly intensive musical relationship. The pianist also has a special affinity with the music of Bartók, Brahms, Liszt and Prokofiev and a strong commitment to contemporary music. He has close links to composers such as Ivan Fedele, Marc Monnet, Gérard Pesson, Bruno Mantovani and Hugues Dufourt, who dedicated his masterpiece for solo piano, Erlkönig (2006), to the pianist. He has also given the premiere of works including Mantovani's Double Concerto (2012), which he performed with the Orquestra Sinfónica do Porto, Orchestre du Capitole de Toulouse and the BBC Symphony Orchestra. In 2013 he gave the South Korean premiere of Tristan Murail's Le Désenchantement du monde with the Seoul Philharmonic Orchestra.