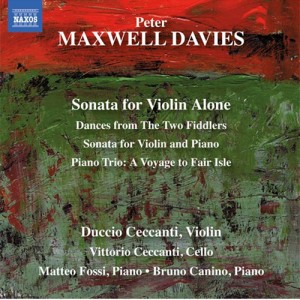 The Two Fiddlers: Dances (version for violin and piano)
From MAXWELL DAVIES, P.: Sonata for Violin Alone / The Two Fiddlers: Dances / Violin Sonata / A Voyage to Fair Isle (2017)
Released by Naxos
Maxwell Davies: The Two Fiddlers: Dances (version for violin and piano)

Sir Peter Maxwell Davies was an English composer and conductor. In 2004 he was made Master of the Queen's Music.

As a student at both the University of Manchester and at the Royal Manchester College of Music, he formed a group dedicated to contemporary music, the New Music Manchester, with fellow students Harrison Birtwistle, Alexander Goehr, Elgar Howarth and John Ogdon. His compositions include eight works for the stage, from the monodrama Eight Songs for a Mad King, which shocked the audience in 1969, to Kommilitonen!, first performed in 2011. He wrote ten symphonies, the first from 1973–76, the tenth ("Alla ricerca di Borromini") in 2013.