My grandfather played the piano, mostly Methodist hymns and his favourite bits of Bach, Beethoven and Haydn. I suppose I was always aware of it and recall sitting next to him when he played when I was very small. It was an Edwardian upright in the front room (kept for Sundays and special occasions) and the piano stool was full of interesting song sheets and hymnals, friable and speckled with age, with that special antique smell, like the musty reminiscence of an old church….. My younger uncle also played the piano, passably well, my eldest uncle was a fine amateur violinist, and my father played the clarinet. There was often music in my grandparents' house, live and on the wireless and 'gramophone'.

I don't recall actually asking if I could learn the piano; rather, my parents acquired an old Challen upright for me when I was about 5. It had lived in a greenhouse for 2 years and needed a lot of restoration. It was overhauled, refelted, and given lots of TLC, and was gradually brought up to concert pitch by the piano tuner to become a much-loved and regularly-played instrument which saw me through all my grade exams.
Rachmaninov Piano Concerto no 3
Vladimir Ashkenazy
All through my childhood, my parents took me to concerts, often featuring the piano. As a consequence, I heard the big warhorses of the piano repertoire performed by many of the "great pianists" of what is now a bygone age, though many are still alive – Alfred Brendel, Vladimir Ashkenazy, Radu Lupu, Murray Perahia and John Lill, amongst others. I loved the music and the whole experience of the concert – the venue, the plush seats, the hushed reverential atmosphere and the special clothes the performers wore. In my teens, I dreamt of being a concert pianist, but my sensible self knew this was probably an impossibility and I took a different career path when I went to university. At that point, I stopped playing the piano seriously, and didn't take it up again until I was in my late 30s. My mother bought me a reasonably good digital piano, and while this wasn't "the real thing", it was better than nothing and I began to enjoy rediscovering the music I had played in my teens – Bach's Preludes and Fugues, some of Beethoven's sonatas, Schubert's Impromptus and Debussy's Preludes. It was gratifying to find that much of this music was still "in the fingers", though the fingers weren't always that biddable due to lack of practise! Around the same time, I started going to concerts again regularly (having a small child and the exigencies of baby-sitting had made this rather difficult) and London's Wigmore Hall became – and still is – my favourite venue for piano and chamber music. Soon after, I started having piano lessons again, after a break of some 25 years: the experience was both thrilling and inspiring and also rather terrifying initially…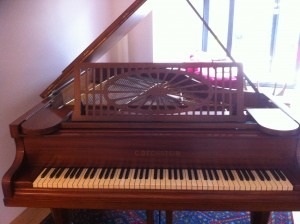 Returning to the piano in my late 30s, and the completion of two performance diplomas in my mid-40s, has given me the freedom and confidence to fully indulge my passion for the piano and its literature. Had I gone to music college and had to make a career from music as a young woman, I may have lost that spark, that passion. I've met a number of professional musicians who have expressed resentment at the heavy demands of their career, which can rob them of their love of the piano and its literature. I adore the piano, the physical instrument, its sound and its repertoire, with a passion which now borders on an obsession: in fact, I am not sure what I would do without it now.
I am fascinated by the connection pianists seem to have to their instruments, and the stories which illustrious instruments can tell us. The loneliness of the pianist also interests me. While other musicians, be they soloists, ensembles or orchestras, sit largely facing the audience, the pianist does not, and this immediately changes the dynamic between performer and audience. Some people have suggested that I chose the piano because I am an only child and that I like being on my own: it's true that I am content in my own company, and am happy to spend hours with my piano, a beautiful 1913 Bechstein grand with a rosewood case and fretwork music desk. But I don't feel lonely (and I have made many pianist friends through courses, concerts, and other piano-related activities) and I like the solitariness of spending time with the instrument, and its vast and wonderful repertoire.
The piano is a remarkable instrument. You have a whole symphony orchestra at your fingertips, from double basses and timpani in the lowest notes of the register, to cellos, bassoons and horns in the mid-range, flutes, oboes and violins in the upper range, and the piccolo in the high treble. The piano can sing, it can growl, it can mark an insistent drum beat or spin gossamer webs of sound. It can declaim or whisper, sparkle or murmur. Its range of colours and voices is remarkable. Other instrumentalists do not believe pianists when we say that a particular touch or angle of the finger or arm-weight can produce a certain, unique effect, but pianists know this is true, and when we call our imagination into play, we truly conjure magic out of that big mechanical box of wood and wires.